Mitch and Stephanie are celebrating their 30th year as the private owners and directors of Camp Towanda; their two sons, born and raised at camp, are also involved.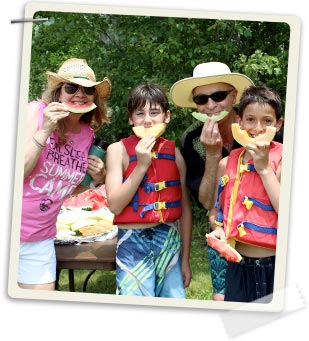 As current families know, running camp is Mitch's full time year round passion. Mitch is also the past President of SCOPE (Summer Camp Opportunities Promote Education), National Trustee for The Foundation Fighting Blindness, Board Emeritus of L.O.V.E. (Leave Out Violence) and Board Member of the American Camp Association (ACA), ACA Camp Ambassador, a committee chairman of Wayne County Camp Association, current Chairman of SCOPE Benefit Dinner and involved with Project: Morry's Camp Swim-A-Thon.
Mitch started sleep-away camp at the age of seven. He graduated from Syracuse University (Newhouse); was a writer, reporter and producer for WPIX-TV News and INN News in New York before switching gears and returning to camping.
In addition to her role as Co-Director at Towanda, during the off-season, Stephanie is an accomplished artist. Her work encompasses painting, sculpture, collage and ceramics; represented at galleries in New York, The Pocono Mountains and Martha's Vineyard (www.stephaniereiter.com). Stephanie started her sleep-away experience when she was a very little girl and graduated from Boston University's Fine Arts School.
"Mitch and Stephanie are truly our parenting partners; nurturing, positively influencing and caring about every detail to make the summer an incredible opportunity."
"We want to thank you again for giving our kids the incredible gift of
being part of the Towanda family."
"Our kids look awesome and say this was the best summer at Towanda!! Your heart and soul that is put into each summer is just incredible. Thank you for all that you do!"