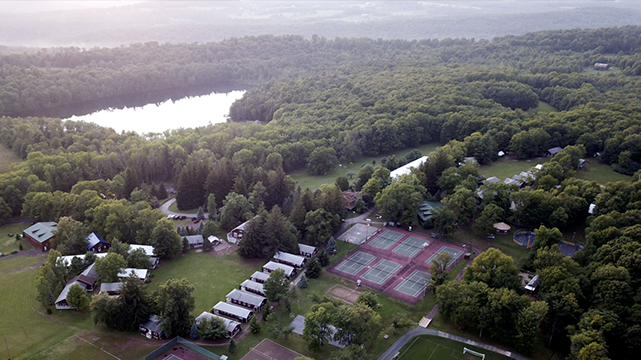 Our Senior Staff, Leadership Team and year-round crew spend ten months of the year planning, anticipating and preparing for 7 weeks in the summer. We are all truly honored, proud, humbled and take this responsibility seriously. Throughout the year and the summer, we are known as super communicators, giving you a keen sense of what to expect in the off-season and a peak into our world during the summer months.
Camp Towanda's reputation is best described as "ultra-hands-on". Everyone knows everyone. The physical layout of our bunks form a circle on boys' and girls' campuses, and include all campers, youngest to oldest. Our older campers set the tone and example through leadership opportunities and traditions – everyone is connected. Overall, it's a great place where kids are kids, unplugged, nurtured and experiencing the way life used to be!
Parents know that their children are safe 24/7; that we have in-depth staff training and supervision; that the experience of camp changes the lives of their children in immeasurable ways that enhance social skills, maturation, physical and emotional enrichment and development, character, courage and responsibility; and most importantly, it helps children to separate from family and friends in comfort and support and return home better for it.
There have always been ups and downs, everywhere in life. At camp, some days we have banana splits, some days we don't! We have had rainy summers and very hot summers; some have said not all Olympic Breakouts were the best ever and many have loved those awesome psych-outs! Sometimes your team wins the World Series, sometimes they don't. We believe the key to it all is related to the long term and in the case of camp, it is the unique compounding experiences.
The experience of camp is sometimes tough to verbalize. Some call it "the magic of camp", some say "you just have to be there", some say, "you know, it's camp" and others feel that it is just the single greatest experience and influence in their life. Michael Eisner, the former head of Disney, who wrote the book, CAMP, explained that his camp experience was one of the most important and influential impacts that affected the path of his life.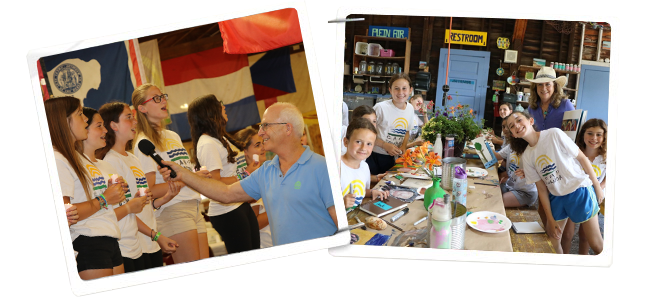 So, what actually is it about camp that makes a difference in a child's life? There seems to be a consistent effect that produces and fosters quality in confidence, self-esteem, leadership skills, hope, support, potential, smart choices, respect, friendships, camaraderie, sense of belonging, cooperation, conflict resolution, character, tolerance, healthy independence, enthusiasm, spirit, interest, enlightenment, creativity, sharing, teamwork, sportsmanship, and skill development; to name a few!
The compounding result of the camp experiences helps build the foundation of who our children will become, building upon itself day by day, week by week and year by year. The power of camp is truly a unique and special opportunity for those fortunate to attend.
As Owners & Directors of Camp Towanda , we have always taken the responsibility seriously. The excitement of each new summer remains as we celebrate over 32 years as the owners and directors and as Camp Towanda celebrates 100 years.
Camp Towanda is a leader in the camping industry. Along with our campers involvement with Project Morry's Swim-A-Thon. and the Foundation Fighting Blindness's Vision Walk, I am a previous President of SCOPE (Summer Camp Opportunities Promote Education), National Trustee for The Foundation Fighting Blindness, Board Emeritus of L.O.V.E. (Leave Out Violence) and Board Member of the American Camp Association (ACA), ACA Camp Ambassador, a committee chairman of Wayne County Camp Association and previous Chairman of SCOPE Benefit Dinner.
Camp is fun, camp is safe, camp is awesome and camp is really what we all need. It is continuing education; stuff that one can't learn at school or at home. We have often said that camp is the way life used to be, or ought to be.
The true value of the Camp Towanda experience goes beyond financial consideration (after all, one could evaluate that if they were to make all the arrangements on their own to house, feed, supervise and instruct their child 24/7 for 7 weeks in a safe, enjoyable and comfortable atmosphere while making friends, developing the life skills and more, it would far exceed the expense of camp.) The true value is in that foundation one is building.
We understand what a big decision choosing a camp is and we would be delighted to speak with you personally.