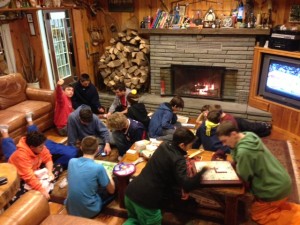 What an amazing couple of weekends up at camp for our annual Senior Girls and Senior Boys sleepovers.  Beyond the chilly temperatures and snow flurries, fun on the lake, frozen Ghost, basketball by the fireplace, sledding, ice fishing and delicious home-cooked dinner and breakfast (including Hibachi Eggs and Spaghetti and Meatballs), we had the chance to sit and talk with them in front of the fireplace. We spoke about our expectations, proper behavior and respect, how to make a positive impact on others, what is a friend and so on.  We expressed our anticipation of them becoming the future leaders of camp and what it takes to get there.  The good news is that not only were they listening and digesting it,  we actually do get there with each group, each year; no matter the challenges … and that is what the next 2 summers are about.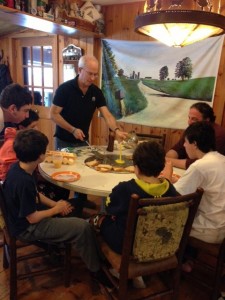 Girls Head Counselor Amy Miller came all the way from Florida to join the Senior Girls' Sleepover this year.  Here is a beautiful recap of her experience.
"I have so much to share I don't even know where to start …. Do I write as a Mother of a 10 and 14 year old girs , The Girls Head Counselor , or an alumni who started as a young camper in 1979 !!?   It's funny to have so many titles 🙂  I think I will just share my thoughts, with all my different camp hats on …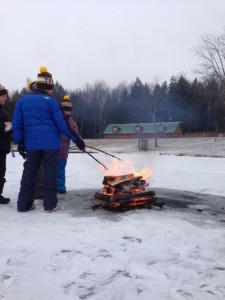 First,  I just want to say thank you to Mitch and Stephanie for a beautiful weekend filled with love, hugs, laughter, excitement, tradition, yummy food, fresh country air, lots of layers and of course … snow!!!
The Senior Girls Sleepover  weekend was better than I ever anticipated it to be … and we were very excited. I have been at camp for a long time, in many capacities. That being said … I have never been at Senior Sleepover !!! I have heard about it though and have seen amazing pictures,  but never experienced it for myself !!!
I am overwhelmed with so many different emotions. I think the most important feeling I have is feeling very grateful. Grateful for the beautiful friendships the girls have made, grateful for the life lessons and coping skills they are learning, for the independence they are developing  and especially grateful for the  emotionally safe environment they have to do all this "growing up" in.
Being a Mom of two girls on girls camp and the Girls Head Counselor I think I experience all the different things at camp in very different ways.  At the Senior Girls winter sleepover I felt so thankful as a Mother and also so proud as Girls Head Counselor and felt especially privileged to be part of the Camp Towanda family & team.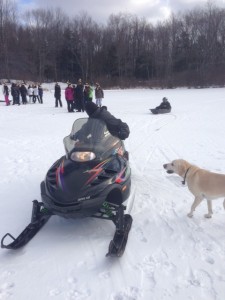 I have seen the Senior Girls grow and mature over past summers. As we all know there has been times that were a bit trying to say the least !!!  That being said I have come full circle with them as I have with many of the groups on girls camp.  Watching ALL of the girls come together through the weekend was amazing.  All the lessons we have been trying to teach them just clicked.  They were kind, loving, inclusive, happy, respectful and thankful. Most of all they were plain, old … HAPPY.  That is an amazing way to describe 30 teenage girls !!!
I think parents are thrilled to send their children to sleep away camp …. they know it is a good experience and that their children are happy.  Though, I don't always think they are  aware of all the magical things that happen at camp. I felt like a fly on the wall this weekend. Enjoying, helping, but also so impressed and proud. The planning and organization of the weekend was incredible. Everything ran like a well oiled machine. The hot chocolate that Stephanie & Jared made hit the spot. The cooking by chef Mitch was delish … homemade sauce !!!  I was REALLY impressed !!!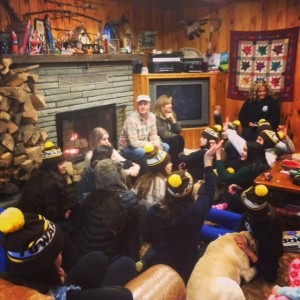 Of course the sledding, ice fishing and frozen s'mores were all fabulous too but the  "mansion talks" with both of you and now Jared (who grew up at camp) about being a good person and friend, about taking care of each other, about being a mensch were priceless. You could hear a pin drop in the room as they were all snuggled on the couch sitting in front of a awesome fire and just listening. Absorbing every word.   If I didn't see it for myself I wouldn't believe it. I feel very lucky to have been a part such a special time.
On the drive home … one of the girls in my car said … "Hey guys, Do you realize that Mitch and Stephanie choose to be with us, at their home, in the middle of winter.  I guess they could be on vacation, but they are here with us!" The girls got it !!"  When parents ask me what makes Towanda different … I always have so much to tell them …. I speak to them from my heart. What I truly believe.  Senior Sleepover just validated everything that I already knew and more.