It's time for another edition of Mitch's blog/mix mashup…Camp Towanda updates set to music (we've added the You Tube music links for your listening pleasure).  With week 6 getting underway, there is definitely something IN THE AIR TONIGHT.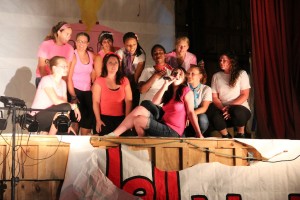 YELLOW SUBMARINE. Yesterday actually felt like a Sunday.  Dark, damp and heavy downpours. Actually felt good; giving us a chance to have some rainy day activities , extended rest hour and a little "Bunk-O" before our indoor rainy day BBQ!
YOU'RE THE ONE THAT I WANT.
Staff presentation of GREASE was fantastic! Great sprit, great sing alongs and then…

DANCE THE NIGHT AWAY.
The Olympic fever triggered; rumors of psych outs and fake outs have begun. Very intense;
At flagpole line up last night, there was strange delay with the flag lowering bugle…created quite a stir.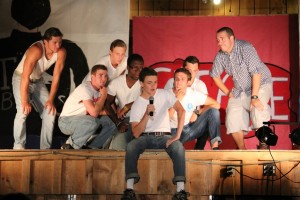 COLOR MY WORLD.
Then at tonight's  show, there were reports that my shirt color, my raincoat, kept changing colors every few minutes… red to blue to red to blue! At the end of Friends, Alma Mater & Taps, the lights went out, Pink Floyd's ""Is there anybody out there?" intro sounded, the fog horn blasted; kids and staff started screaming and then I simply announced  there was going to be an 8:30 AM Reveille!
You can sense the excitement and anticipation…who knows when, how , where and what??????  Stay tuned..will be in a few minutes?, hours?, days?  Or at all!!!
YUMMY, YUMMY, YUMMY
After taps, I marched the TWEENs through the shadows of the night lights , serpentined around the older kids who were under the basketball lights…into the mess hall, then into the kitchen where they thought they were going to mop and clean; instead, I surprised them with make your own ice cream sundaes; it was all fun and games until Stephanie heard the noise came into the kitchen and we all scattered…hiding under the cook's table, in the vegetable section and the walk in fridge….Stephanie caught us, but then joined us in the ice cream party… it got crazy as I "distributed" the toppings in an incredible dumping of "way too much oreos, sprinkles and syrup" to the kids…it flowed over their bowls, on their arms, down the table and onto the floor…everyone was laughing in amazement and incredible disbelief…  a great fun ice cream party….afterwards, they marched silently through the night back to their cabins, not getting caught by The Head Counselor, whispering "this never happened"…a secret between, me, Stephanie and the Tweens! SHHHHHHHH.
DO IT AGAIN
After cleaning and resetting the kitchen, we did the same thing with the Middie Boys; all the same except, the boys were really sloppy and smelly!
I GOT A FEELING
Just completing an OD patrol with Stephanie and Amy, The Girls Head Counselor (HC), we talked about how incredible the aura of camp is, we proudly refer to the special feeling that happens at camp once we pass the visiting day hump…everyone is smiling, feeling good, active, excited and just overall, part of the Camp Towanda FAMILY!
OPERATOR
I feel that I am not even coming close to what happens here; there is a bond and sense of being part of something special and welcoming and comforting; that just brings out the best in each individual here.
AFTER MIDNIGHT
Okay, I'm actually going to go to bed soon…
Good night Towanda
-I SCREAM Mitch and 2 SCOOPS Stephanie
PS: I actually have fun thinking of Song Titles!