Camp has been speeding full speed ahead since Visiting Day!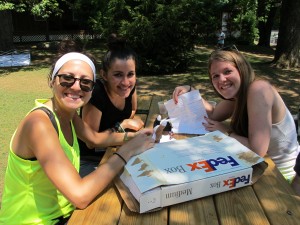 On Sunday , we had about 100 alumni return "home" for a great day of reminiscing, To-Wandering around and opening up their Dorm/Club Time Capsules from the 1990s and early 21st century; what a trip…to look at the memorabilia and laughs!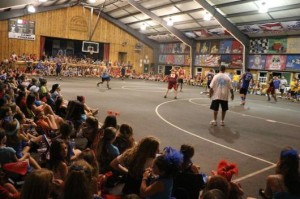 The counselor All-Star Basketball game was very entertaining as the spirit of camp continues to grow.  And we had a great gymnastics half-time show from our campers!
Our Inter-Camp games continue with great sportsmanship, pride and teamwork. Our kids and coaches are making us proud.  Not only with how they are playing (which is a joy to watch), but with how they are representing Camp Towanda all-around.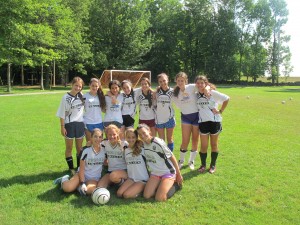 The Visiting Day VisionWalk fundraising T-shirt sales were impressive; the LITs took orders for over 100 shirts ($25 each); if you would still like to get one, we are placing the order on Friday, so just email jared@camptowanda.com what size shirt and then mail in a check for $25, payable to Camp Towanda. (ATT: VisionWalk).
The accolades received from many parents since Visiting Day has been overwhelming and we thank you. We sincerely love and value what we do and feel lucky to be in this position and this career…we do not take anything for granted; as the owners, directors and parenting partners of your kids, we try our very best, learn from mistakes; improve and enhance each year; and no doubt, it certainly seemed like the best visiting day yet!
What a boost for everyone here; the staff are into doing the right thing and making the very best of the dwindling time we have this summer.
At our senior staff meeting last night, everyone remarked on how great a day VD was, how wonderful it was to meet many parents and this is the best part, how they get what we are about; how we put at least 3 days into 1; how impossible is to explain to someone outside of camp, what the magic is here and how proud they are as well to be part of our CAMP FAMILY.
It is trip week for Upper Camp.  The Seniors left for Montreal, while the Club & Dorm enjoyed a great day on Martha's Vineyard, now resting in Boston.  The Inters also had a great tubing trip on the Delaware and delicious extravagant BBQ riverside. The National girls endured and enjoyed their Canoe Trip Today (no rain for them!).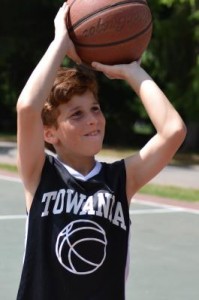 Our Culinary classes have winded down with some delicious pretzel chicken and other entrees! Check out the recipe here.
Wednesday is Backwards Day, GoldRush and the Counselor Hunt, while the LITs head off to Niagara Falls for a few days.
In case you are interested, here are my Backwards Day Annoucements:
GNINEVE DOOG      PMAC   ADNAWOT.   Ti    Si     YAD    SDRAWKCAB!      ENIHS  DNA  ESIR  OT  EMIT
SAMAJAP      SAW  YADOT  ROF  SSERD EHT…….       ENERCSNUS   RUOY    TEGROF  TNOD DNA
TRANSLATED:
GOOD EVENING CAMP Towanda  IT IS BACKWARDS DAY   TIME TO LOWER  AND DULL
THE DRESS FOR TODAY WAS PAJAMAS…   AND DON'T FORGET YOUR MOON DOOR!!