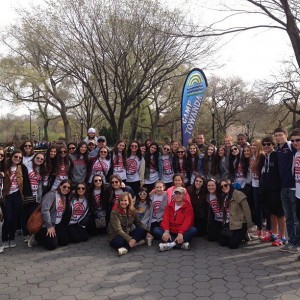 Last weekend, Team Towanda came out on a beautiful Saturday morning in Central Park to support the Foundation Fighting Blindness in the annual Vision Walk.  It was very inspiring and exciting for so many of our older campers and several counselors participate and show their philanthropic spirit!  It was also great to experience their total, awesome excitement for the summer.  It made for a very nice finish to a challenging week.
The Foundation Fighting Blindness is one of the many great causes we support here at Camp Towanda.  You may remember seeing our L.I.T.s selling our Team Towanda tees on Visiting Day and throughout the year.  Our walkers wore them with pride and all proceeds went to the Foundation Fighting Blindness.  Thank you to everyone who supports this important cause!
If you couldn't make the walk in person, click here for the even QUICKER video recap: 6 seconds of Vision Walk 2013.
For more information about the Foundation Fighting Blindness, visit their website.