We welcome you to Camp Towanda, we're mighty glad you're here!
Camp Towanda is an independent, traditional, co-ed sleep-away camp nestled in the Northeast Pocono Mountains of Pennsylvania. We have a special place, filled with tons of energy and spirit, deep friendships, nonstop fun and diverse activities. At Camp Towanda, we provide a well-rounded experience for our campers and staff in a nurturing, safe environment with endless opportunities for them to try new things and feel great about themselves! All while creating memories with their summer family that will last a lifetime.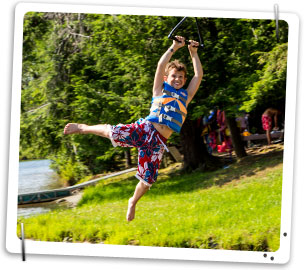 Our program offers an excellent and professional athletic department, waterfront, extensive arts, drama and adventure programs, as well as very creative evening activities and special events. This is where kids get to be kids, just like the old days!
We attract down-to-earth, friendly and spirited campers, families and staff. Our camp is for all levels of abilities and interests. There are an equal number of boys and girls, with campers coming from many states and several countries. Our camper-to-counselor ratio is higher than 4:1!
For over 100 years, Camp Towanda has continued to define what camp should really be. We take pride in everything we do and continuously upgrade our state-of-the-art facilities, while still ensuring everything feels like "camp". We are highly regarded and respected as an industry leader and are involved in giving back to various organizations throughout the year.
Camp Towanda is accredited by the American Camp Association and a member of the Camp-Alert-Network, Wayne County Camp Association, Camp Owners and Directors Association and the Pennsylvania Camp Association.