Come see us in action!
Our tours during summer 2022 will be "Safari Style" tours (observing from a distance). Tours will be limited to 1 family at a time; socially-distant friendly in our extra-long "limo style" golf carts (the back 2 rows for the family, the front 2 rows for the tour guide) and will include snacks and a pre-ordered boxed lunch to go! Expect to get to know us and observe us live and in action! Tours are available Fridays through Wednesdays (That is; not on Thursdays!) starting July 9th.
In the fall, we will hopefully have our New Camper BBQ on October 1st, 2022, when you will have a chance to meet some of our other new campers, staff and families!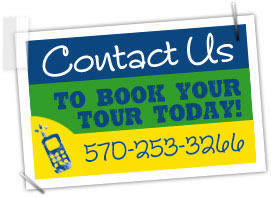 Please be prepared for somewhat different weather in the mountains (maybe cooler, the grass may be wet; pack that car, be prepared!!, etc). 
Although we are encouraging day trips; we are happy to help plan your itinerary to and from camp! We will be reaching out prior to your tour to discuss lunch choices, any allergies, our safety protocols for when you arrive at camp, and answer any questions you may have! 
We look forward to getting to know you and your new camper! 
If you are interested in booking a tour, please contact [email protected]!