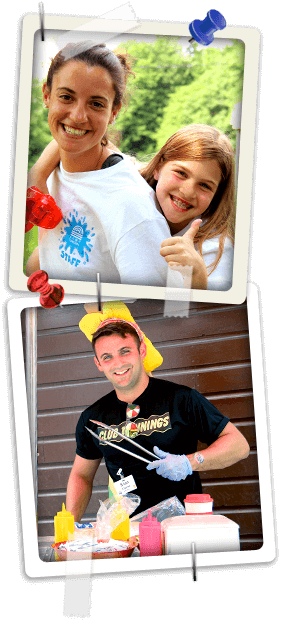 LIVING
All cabins have hot and cold water, showers, sinks, toilets and electricity. We serve high quality, home cooked meals emphasizing good nutrition and choices with unlimited quantities of fresh fruit, vegetables, pasta, chicken and meats. Counselors eat with their campers and sometimes act as waiters or waitresses.
CULTURE
Camp Towanda's campers are 98% Jewish and we observe a Friday Evening Service as well as say a grace prior to each meal. Our staff always adds a warm cultural mix to our camp family. Counselors, if On Duty, attend the service with their campers. It is a cultural experience that recognizes friendship, respect and good values.
CABINS
Most cabins house 16 campers with at least four staff members.
ACTIVITIES
We specialize in all activities; Sports, the Arts, and Outdoor Adventure. Take a look at our application for some of the activities we offer.
ORIENTATION
We provide a Staff Guide in May and a week-long orientation program is required prior to the campers' arrival. Depending upon which department you are in, we may ask you to arrive earlier than the general orientation session.
STAFF CURFEW AND O.D.
Our curfew on nights off is 12 midnight. O.D. refers to being On Duty with your campers after lights out. A counselor is usually O.D. two times per week
DAYS OFF
Staff members get six days off for the 8-week staff session. That's one day per week except the first and last week. We also provide a recreational activity program for off duty staff.
TRANSPORTATION
We recommend that you bring your own car, if you have one. However, transportation is provided to town most nights.
SALARY
Salary offers are based on a scale that considers school class, skill qualifications, certifications, previous camp employment and includes room, board, linens, laundry and a travel allowance. There is also a "no tipping" policy. We believe it promotes favoritism and the ACA discourages this practice.
PRE & POST SEASON
There is additional work available, in addition to the 8-week counselor program. There is, of course, extra pay for participating.
DRUGS, DRINKING, SMOKING, GUM,  & PIERCING
No drug possession or abuse permitted. Drinking on campus or when On Duty is not permitted and will get you fired. The Pennsylvania drinking age is a strict 21. We maintain a ZERO TOLERANCE POLICY regarding underage drinking or irresponsible off-duty behavior that potentially results in negative effects. We do not allow gum at camp. Men and women can wear ear studs only (for safety purposes nothing dangling).
HOW TOUGH IS IT?
There will be times when you wonder why on earth did you take this job! The answer is that you can make a valuable positive impact on children's lives.
You are expected to be a role model to the children. Decision-making, good judgment and listening skills are a tremendous part of your job. You are always on duty, even when you are off! Therefore, good time management skills are essential.
Teaching program skills are important, but showing a camper how to get along with others, creating fun, learning to share, helping through crises such as homesickness and developing group living skills will make this a challenge you'll need to be "up" to.
The days are long and the campers will keep you on your toes. However, you will NOT be alone, our leadership team will be there for you and your campers to assist and support as needed. We are essentially, a giant family!
WHAT YOU ARE GETTING YOURSELF INTO…
Camp Towanda is a place where people return year after year. Wherever you go in the world, you'll probably run into someone who went or knows someone who went to Towanda!
We are a giant family. For many, this is their first job away from home. It is all encompassing and as a team we all have fun, learn, grow and develop. At camp, we count and rely on each other.
MORE INFO ABOUT CAMP
Please look through our entire website, it will help you get a feel about our program. Watch episodes of our weekly highlight video Friday Nite Flix, follow us on Facebook, and Instagram. Please call us or email with any questions!