Our program is for all levels of interests and abilities. Everyone shines comfortably in his or her own way. This is a healthy, non-competitive environment.
We have found that our campers just want to be regular kids, no matter their ability. No intense pressure, just the opportunity to improve, try new activities and enjoy fun, special events while developing respectful friendships.

We offer a lot of competition, but we are not competitive. There is a big difference! If one wants to be on a team, they are…they just have to attend practice. We offer teams in all sports and at different levels of competition (Intermurals, Intercamps and Wayne County Elimination Tournaments). We want kids to have fun, have the opportunity to play and just try their best.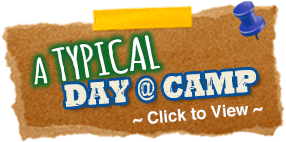 We offer instruction and skill development for all activities: land, water, adventure and even chess! Our coaches, who consist of professionals, high school coaches and college players are top-notch and work with groups, teams, and individuals.
For campers looking to focus in a particular sport or area of interest, we offer optional Sports Master Clinics, Culinary Cooking, Golf, Horseback Riding and Fine Arts.
At night, our entire camp family usually comes together for our creative and fun evening activities. It is a great way for siblings, friends and different ages to spend time together, and learn from one another.
If we had a typical day (that's the beauty of being at Camp Towanda, everyday is different and exciting, we don't get bored here!), it would be something like this…Click Here!