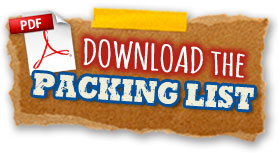 We provide 7 staff shirts that you will wear during the day and on trips.
Please make sure you put your name on everything!!!
DRESS: Clothing at camp is casual both day and night…You should bring "going out" clothes for your off duty time, however nothing too fancy is necessary.
PRECAMP: The weather can be colder/wetter than normal… hiking/waterproof boots, warm sleeping bag, and work clothes you don't care about. This means "junky" clothes that will get muddy and/or painted.
O & A STAFF: If feasible, bring a bike and your own climbing gear…not required