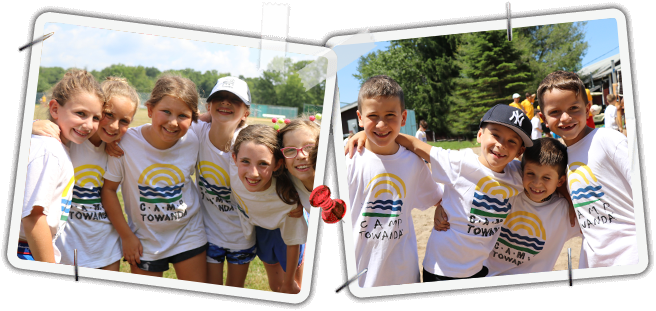 We spoon-feed everything. You won't have to stay up late at night wondering what questions to ask! What to worry about! What to pack! What to what!
We will hold your hand and become your parenting partners! It does not take long to be a comfortable member of our camp family; if this is your first sleep-away camp experience; if you are shy, bashful, overwhelmed or extremely confident; you have found the right place! Traditions, great activities, special events and complete access to us: the owners and directors.
Some great ice-breakers to look forward to as a new Camp Towanda Family:
Fall Foliage BBQ for new families
Winter Reunions
New Camper Orientation (aka "Group Scoop")
New Camper Chat Room
New Camper Video Chat with Director one-on-one
Big Brother/Big Sisters
Camp Towanda Parent Guide (which really spoon feeds you everything you need to know!)
We have campers coming from all over the country and world. We ensure and pre-arrange for all campers to have a friendly face to sit with on their trip to Towanda on our regional buses or longer distance flights.

The Camp Towanda culture is a full season summer camp experience and we know that sometimes parents just aren't quite sure which way to go!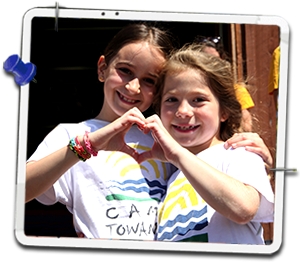 With that in mind, we are able to offer the opportunity for a campers' first summer a 4-week option only as an assurance that the child, once enrolled and in attendance, will have a window to depart around the 4-week mark only if the child hasn't adjusted (Not likely)!!! We can make this offer only with the acknowledgement that the family won't make permanent plans for their kids for the second half of the summer.
Parents can rest assured that even if they do not sign up for the 4-week option, if we recognize that the first summer would end on a more positive note by a shorter time at camp, we will let you know!
The bottom line is that once your camper gets into the groove and over the arrival hump, the only time he/she will be crying is at the end of the summer when it is time to leave!!
It is such an incredible opportunity and experience… and remember, everyone starts off new!
Please speak personally to Mitch regarding the finer details of this option.