Join us for a taste of the sleep-away camp experience during one of our S'more Tour Rookie Days!
We welcome future campers for an awesome, reassuring, comforting, safe and fun introduction to life at Camp Towanda!
Future campers experience a lot of what, where and how we do things, with the comfort of seasoned campers, staff and alumni welcoming and leading the way!
While parents get a Mitch and Stephanie-guided tour of camp and a hang out and get –to-know-you BBQ lunch, your children get placed with their age groups for an action-packed day!
Our S'more Tour Rookie Days are fun for the whole family and a great way to start your experience with Camp Towanda!
No Charge!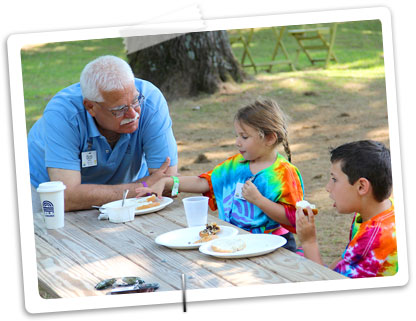 2018 Dates
(Limited space available)
S'more Tour
Rookie Full Day
Join us for breakfast at 9:30am. Lunch included at 12pm, plus more quality time with the Directors.
Sat. July 7, 2018*
Sat. July 14, 2018
S'more Tour
Rookie Half Day
Join us for breakfast 9:30am.
Stay for a lakeside BBQ at 1pm (optional)
Sun. July 1, 2018
Sun. July 29, 2018
*S'more Camp Sleepover 
July 7 only Future campers stay after the Rookie Day and join our camp family for dinner in the Mess Hall, Evening Activity and an amazing overnight in our treehouse complex! Parents pick up the next morning!