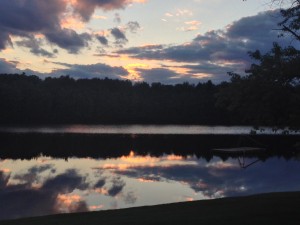 It has been just over a month since camp ended…we miss everyone, but we have remained quite busy! We are getting ready for our annual Fall Foliage BBQ this Saturday, hosted by the Dorm Girls 2015. We have well over 200 people planned to come back to camp this weekend, including all our new families, and it should be a great day of ball games, BBQ and Towandering.

Before I share all the exciting action going on here at camp, I want to say first and foremost- what an excellent summer! Reflecting on it all, hearing from many of you and hearing the word on the street leaves us all gleaming with pride!
Of course, there is always room for improvement, enhancement and to do things better…and we are and will!

We have a major renovation of the main soccer field in progress as well as the new Treehouse area. We are very excited for the Treehouse to be in full operation for the start of next summer.  Visitors this weekend for the Fall BBQ will be able to walk up into the lower pod.
The Yurt platform is underway and will be all set for next summer, too. Jared's "The Hut" Cabin, located between Triple and B-12, is also finishing renovations!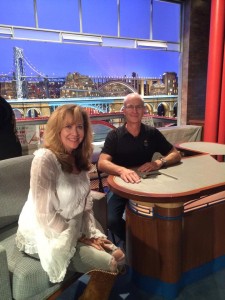 We are revamping the sound and lighting capabilities for the amphitheater and Field House to step up our production quality. Major renovations to our swimming pool are also in the works! And a few more bunks will be receiving renovations!
So, that is just some of what is presently going on (more information, progress reports and details to come)!
Did you catch Stephanie and I on Letterman? We were invited VIP guests as a thank you from the producers for the original bit years ago when Biff came to Towanda; They say it was one of their favorites, and since Dave is in his final season, they wanted us back. It was a good time! Catch some pictures on our Facebook page.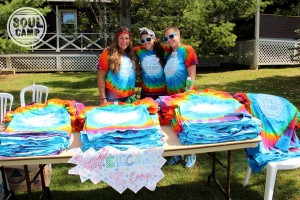 If you didn't hear the buzz about SOUL CAMP it was great. Two of our alums put together an adult mind-body-soul retreat; a very impressive array of speakers, sessions and excellent organic healthy cuisine; it was a love-hug-good vibe fest where I definitely got my Oms in check; we are talking a calmer, gentler and more relaxed Mitch! I definitely recommend it for you next year.  Check out Soul Camp 2014 on Facebook.
Interested in hiring our Media Team for Bar-Mitzvahs, Private Parties, Corporate Videos, On-Hold entertainment etc.? We have a great team (headed up by Erica Media and Skyler) who we want to keep part of camp and Friday Nite Flix for years to come, and we want to keep them busy year-round. You know the quality of their work already (check out FNF and our promo reels). Please let [email protected] know if you have any interest at all. They were the videographers for Soul Camp and did this awesome trailer (check it out here).
We also want to wish everyone a very happy, safe and healthy Rosh Hashanah. And again we want to acknowledge that we appreciate and value the trust parents give us to help influence their children. Camp Towanda is a very special place and we are really glad that your family is part of it. Thanks again and we will hopefully see you at one of the reunions.
-Mitch
P.S. MARK YOUR CALENDARS for The Madrid Reunion on November 1st; We are striving for a Paris Reunion November 2nd (while we are there for our 30th Anniversary and then off to China to staff recruit, food research, tour and our nephew's wedding.); We return in time for the November 22nd New York Reunion then…..The Florida Beach Reunion, December 26th in Boca Raton, FL; The New Camper Group Scoop on January 11th; The Senior Sleepovers in January and The "unpopular" Meet & Ski on January 18th. As well as Stephanie's Book Club (January 27) and Chat Rooms (January 28). The finer details all coming later this Fall!