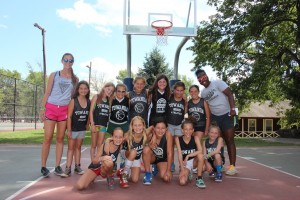 Camp started and ended with rain- the first and last two days were wet, but in between it was a phenomenal season as Towanda Sports Center raised the bar even more since 2014. It was a summer that flew by with visiting teams coming and going as well as Towanda teams traveling and hosting. We had the highest amount of camper participation in recorded Towanda history, as well as the highest amount of teams wishing to come to Towanda to play. Our teams and facilities looked the part and acted the part.
Consolidation of Our Code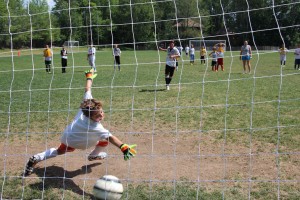 The Philosophy continues, and others continue to recognize it. In sports, just as in life, you need to have focus, balance and a good sense of humor. Our teams were continually complimented on their ethics of teamwork, excellent sportsmanship and fair play among other things. Furthermore, we generally managed to achieve one other important goal: playing attractive sports that are skillful and pleasant to watch, whatever the result. Once again we are proud of all our kids and coaches as they had lots of fun in all their efforts and moved forward.
The results- not a top priority as we have stated before- reflected the spirit. Every age group to win at least one title in many different sports. This is most welcome and if you read on, you'll see the details!!
Soccer Champs
Towanda's most successful sport had five teams in Wayne County Finals, as well as a number of successes at invitationals. Some great soccer was played, but two highlights caught the eye: The"Miracle Cadet" who were 0-2 and 1-4 down at half time of their semifinal and final whistle and won both games in shootouts amid amazing celebratory scenes, while acknowledging excellent opponents in Equinunk and Wayne. The junior girls also flexed their muscles after scoring 32 goals in their Wayne County games!!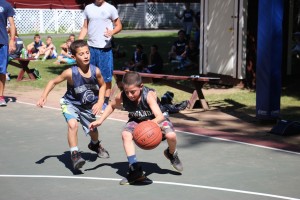 Grand Slam Hoops
Four finals, four Wayne County championships in Basketball! The most dramatic came when the tweens traveled to Trails End and won 22-20 in triple overtime in a very exciting final. The Club/L.I.T boys also triumphed in a tournament that traditionally consists of some major competitors overall, the coaches and kids had a very enjoyable season, playing many, many games with a lot of playing time for everyone.
Junior Girls Repeat
The girls also kept home their basketball Championships as well as the soccer, and they came close to causing upsets in softball and lacrosse. This is a fun-loving group that loves its sports!!
Tennis on Tour
Continuing our tradition of playing good tennis, both our individual and our team tennis groups enjoyed a fine season, the cutest moment being when a Towanda brother/sister team of 9th/10th grade mixed doubles made it to the Wayne County semifinals.
Baseball/Softball is Back
The senior (9th grade) girls went the distance and brought home a much-awaited softball Wayne County championship. They hit confidently and swept aside champs Bryn Mawr and Tyler Hill on their travels, which speaks volumes. All our teams pitched and fielded very well and look forward to a great 2016 season.
Lacrosse Delivers
After reaching two finals last year, our super-enthusiastic staff made it three this year.  The junior (6th grade) boys lost in overtime, as did the Club/L.I.T (10th/11th grade) boys against very strong opponents. But our national/senior (8th/9th grade) boys went one better as they triumphed over the likes of Indian Head, Starlight and Wayne on their way to the title. Their shooting was fearless and decisive and lacrosse for both boys and girls is expanding hugely ahead of the 2016 season.
Flag Football Promise
Many participants enjoyed some great games. Our coaching staff ensured that all involved learned techniques as well as plays for all ages. We are looking to expand into tournaments for our girls in 2016 as powder puff grew in popularity within Towanda's girl camp.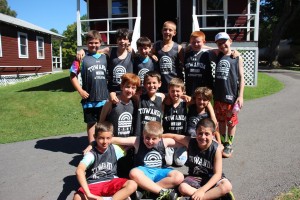 Volleyball Victory
All three of our teams in boys and girls upper camp showed much spirit and enthusiasm as they worked hard with their coach to improve. This brought a very welcome championship home as the Club/L.I.T. boys triumphed at Island Lake with the whole team serving effectively a multitude of aces. Lower camp has taken to this and volleyball is yet another area that is growing at Towanda.
Hockey Players and Swimmers
Hockey continued to develop, thanks to our All-Canadian staff this year, building the skills of all levels and hoping to mount a challenge competitively in 2016. Additionally, our hugely enthusiastic swim team staff led our campers to 3 swim meets for boys and girls. The boys did especially well in all strokes, as did the girls in both freestyle and medley relays.
Undefeated Jets and Debs
These playdates for our youngest campers resulted in much, much fun for kids and staff, and an interesting statistic was discovered after the last playdate: in all the sports played (soccer, basketball, kickball,gaga, newcombe)  we did not lose any!!  We'll happily take that!!
Win, lose or draw, it was a superb summer in sports. The concept remains- we love sports!! And, they are available for everyone. We focus on safety, sportsmanship, camaraderie, fun and playing well. This is what brings victory, whatever the results of the game.
We have some really nice surprises in store for next summer. You'll have to wait and see what they are!! Meanwhile, a big well done to all the campers and coaches, and the very best to all our kid, families and staff for a happy and healthy winter. Looking forward to seeing everyone again in June 2016. Congratulations to everyone who participated this season and our champs and runners up below…
This is Coach Lee with Towanda Sports Center

Wayne County Champions
Boys 10th/11th grade Volleyball
Girls 6th grade Soccer
Boys 4th grade Soccer
Boys 10th/11th grade Basketball
Boys 7th grade Basketball
Girls 6th grade Basketball
Girls 5th grade Basketball
Girls 9th grade Softball
Boys 8th/9th grade Lacrosse
Wayne County Runners-up
Girls 9th grade Soccer
Girls 10th/11th grade Soccer
Boys 10th/11th grade Soccer
Boys 8th/9th grade Volleyball
Boys 10th/11th grade Tennis Singles
Boys 10th/11th grade Lacrosse
Boys 6th grade Lacrosse
Renegade Tournament Winners
Boys 4th grade Soccer
Boys 4th grade Basketball
Girls 6th grade Basketball
Girls 5th grade Softball
Girls 4th grade Soccer
Invitational Tournament Winners/ Runners-up
Boys 4th grade Baseball
Boys 10th/11th grade Lax
Towanda Tournament Champions
Boys 7th grade Basketball
Boys 7th grade Soccer
Girls 6th grade Softball