Mitch shares his reflections on the last day of camp and the summer that was, in his emotional last blog of the summer.
And in the end, the love you take is equal to……
One hot day; packing; emotional; items without names; nailing the bunk plaque onto the wall forever; one last american pie; one last flag lowering; final banquet; emotional words; reflections; moments; long lasting thunderstorm; a super Friday Nite Flix inside the field house; rolling thunder; tear jerking songs (Long & Winding Road, You've Got a Friend, Time of Your Life, Friends theme, Elton John's Friends, Our House, Imagine, Leaving on a Jet Plane, Lean on Me, Homeward Bound, In My Life, Circle Game, So Far Away and Landslide—to name a few); burning of the numbers in a surreal setting as the Dorm & Club led camp in a final "Friends, Alma Mater and Taps" as everyone stood arms around shoulders looking through the open amphitheater doors as 2012 burned on the hillside while the rain poured down; followed by one last milk & cookies—and then boys camp bunk time before bedtime while the girls sang some more songs- all to make for a bittersweet end to an incredible summer for our children.
Reveille sounded at 6:15am today.  We all have smiles and tears for all so many reasons we accomplished as one big family.
I will share with you some of what I said at last night's evening line-up:
"I've always said that the trouble with camp is that it ends. It ends for the summer and then for some, it ends forever. Although perhaps it means saying goodbye to friends you won't see for 10 months, if ever again …that might mean that decades later, the memories,  the smell, the sounds of camp remain the BEST of what you have known.
From singing American Pie, to last night's show, to all the activities, fun and friends…….
So, as we prepare to leave our summer home, summer family, Stephanie and I wish you all only the best of health, happiness, prosperity and goodness…..
It has been a great summer…..it has been a pleasure watching each and everyone of you personally, grow, learn and discover things about yourself you did not realize you could do, become an important person in our camp family….
And as we all go our separate ways, don't forget that everyone here at lineup right now takes a bit of Towanda with them, even if you will never be back here…..   thank you, we appreciate all that we have done together this summer of 2012; we will miss you all… call me, maybe!!"

And then during the banquet, towards the end of the evening, I added something like this:
"I consider myself one lucky guy to be in the position that I am in as your Camp Director, I never take it for granted; I try my best and always want everyone to do the same.
I hope that you find something you love and then with some luck, be able to make it your career and then you'll never feel as if you are working;
Camp Towanda is my home, my life, my family, my business, my passion while at the same time is all of our summer home.
I could not do it without the support of Stephanie and all that she contributes, especially behind the scenes. Keeping me and the senior staff balanced, healthy and clear.
I could not run camp without her  and without my 2 winter sons, Brandon and Jared, who realize and also contribute to all that goes into planning and running camp before and after everyone gets here.
To our amazing senior staff, counselors, KMP, office, laundry, drivers…and everyone…we are ALL Towanda!
Thanks again."
To our camper's parents, I say thank you for entrusting your chidren to us; we will miss them tremendously; enjoy them for 10 months; after a brief rest, we'll be ready to get geared up in just 315 days when "I BET camp will be great in LUCKY 2013"!!
Signing off,
Mitch & Stephanie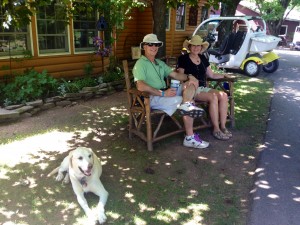 PS: Did anybody my blog posts this summer?
P.P.S. Towanda Times is hot off the press…get our final summer issue here: https://camptowanda.com/times/Vol90No8.pdf