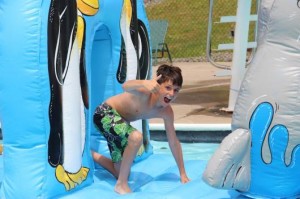 It's the second week and we are hitting our stride. So many quintessential camp activities that are great traditions here at Camp Towanda happen in the second week. We started out with a Buffet breakfast on the lawn picnic tables, activities and "make your own sandwich" lunch outside. All of camp then hit the waterfront for our amazing water carnival with loads of rides, slides, cotton candy, popcorn, fruit, melon, great dancing and music.  It was a warm sunny day that also featured a 10 minute rain shower that chased us all in to the boathouse (rain pounding on the tin roof while the girls sang as loud as they could to drown out the weather)…those are the things you remember most about camp! The unexpected moments. We then we went back out and continued the fun on the huge slides and rides! I couldn't resist jumping in on the action…camp fun for everyone.
If you could be here you would feel the energy. Always exciting, always fun, always loving, growing and getting closer…as a big camp family. I see the older kids with the youngest, I see piggy back rides, I see kids playing activities and singing and dancing…the spirit and attitude is wonderful…even those few campers who write home telling their parents they are homesick are up on stage, involved, have friends and are smiling…..when I ask them why they wrote such letters, they look at me and say something like…"oh, I really don't mean that, I was just writing that because I miss them and I love it here…" Kids!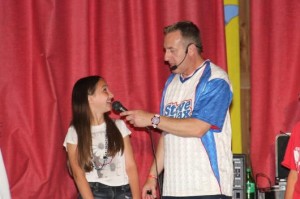 The rest of the week was beautiful weather, late reveilles, activities, inter-camp games, culinary classes, yo-yo clinic, Stephanie's Fine Arts Class and so much more! We had an all camp magic show and the return of the very talented Steve Max–a camp favorite activity of Simon Sez. Old fashioned-fun that delivers the message of RESPECT.
We had our first official trip day this Thursday, bowling and the movies…or as the counselors say, "Ahhh, air conditioning"!  The Nationals had a 3 day excursion in the Adirondacks and our camp family is back together as we head into another Friday…which means an evening of shabbat services and our second edition of Friday Nite Flix!!! Woooo!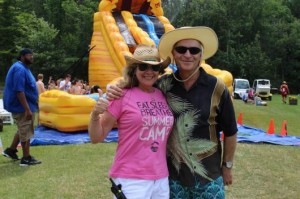 Our life at camp moves at a fairly quick pace; activity-to-activity; joke-to-joke; song-to-song and friend-to-friend. The real magic is that it all happens so naturally here; without intervention from the outside world. There is something special when one has a personal achievement, they can soak in the moment without searching for parental accolades from the sidelines. This is where we see growth, self-confidence and true healthy self-esteem build. It's all happening here at camp…we're enjoying every minute!