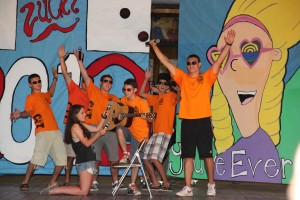 January 18, 2014 was the exact balanced date of number of days since camp ended until the number of days until camp will restart.  As we now start TIPPING towards the upcoming summer of 2014 (the 92nd year of Camp Towanda and our 25th year as Owners and Directors), it's fun to reflect on some memories of 2013 and look forward to "what is IN STORE, in 20-14"! Here are some of my favorite memories from last summer:
Seeing everyone at line-ups
Dancing in the mess hall
On the surfboards in the lake
Entering the amphitheater to great music
The first 10 days of camp we had a thunderstorm every afternoon followed by 3 weeks of an average of hot & humid 90s.
The Goat Alert Alarm system was activated for the goats (actually the horses named chipmunk and donkey), rabbits and chickens (who are now producing at least 4 eggs a day). The Feng Shui of the CIT girls.
Trying to convert from the old wooden outdoor tables to testing the poly recycling wood tables and chairs (a big and not easy consideration).
Many porch and outdoor Buffet breakfasts
How about the Olympic scenery (from the faulty cloning factory to the fun graveyard of zombies and all the shredded paper on the floor)!?
They "…started at the bottom, now we're here…" shouted the C –L- U- B, while the CITs responded with a "we started at the bottom and now we are back"!'
The bird dropped during Girls Sing, just moments away from possibly wrecking the Dorm's appetite!
Those scary clone pictures.
The CITuation.
Yo- Yo class (Dan will be back for more in 2014).
Did anyone ever eat the gefitile fish and matzo supply that is in the Canteen?
Melton Levine pronouncing "TMF"= Too Much Fun!
Mitch still owes B-3 a story!
The YES girls from the Dillies. T
The Root beer Mug Club from the Wayne County Fair.
And, of course, more Tiki Barber Lollipops than you can eat.
As for 2014, what records will we break? What memories will we make? We can't wait! We're getting ready for more in 20-14.