We've got all the amazing details on the last couple of days of Olympics 2012, including the winners of sing and Olympics.  A close race right until the end!!!
Day 4: Apache! Jump on it! Jump on it! Jump on it!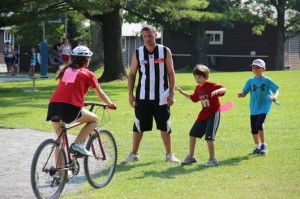 Morning activities started with Red Jesters in the lead and ended with Blue Royalty pulling in just a bit higher. This year really has us waiting until the very last moments of this competition. While camp spent the morning at their regular scheduled activities; basketball, soccer, ghost, gaga, tennis, and so forth, you could feel the excitement building for The Great Apache Relay.
The Great Apache Relay is a camp-wide relay race that covers every inch of our Pocono home. Every single camper participates in an event that can range from a lap around the track to swamping a canoe to whistling with crackers in your mouth! It is one of those rare moments where everyone in camp has the chance to work together towards one single outcome. At the final event, Fire Brigade (where campers shuttle two tiny cups of water across the field to fill two jugs), Red filled their jug first and the air horn sounded. Blue was a mere two minutes behind and everyone came out a winner.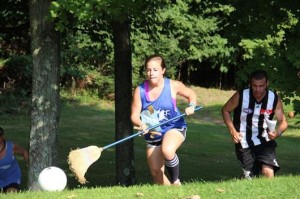 It certainly was one of the most exciting Apache's in recent history.
The waterfront is always a pleasure for spectators to watch the end of Apache with the various activities in the lake, kayaking, rowboat, sailing, canoeing and so on. The lead changed a several times over the 2 hour event while a rain storm in the distance loomed ahead of us. But the rain waited until we all got back to our bunks (which we think was very polite) and we all got a chance to rest a bit with sound of rain on the bunk roofs.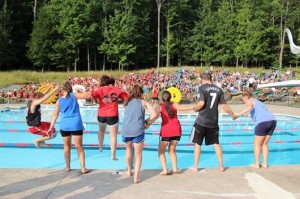 It was a short storm and dinner went on as did Cumulative Long-Jump. Judgie Charlie Neisenbaum was on hand for the judging (he still holds the record for longest camper jump). The Jesters and the Royalty bring it to the concrete… Legs together, swing your arms for momentum, and JUMP! The day ended with Red Jester's in the lead but the Blue not far behind. And then there was Day 5….
Day 5: Sh- Sh- We're saving our voices for Sing!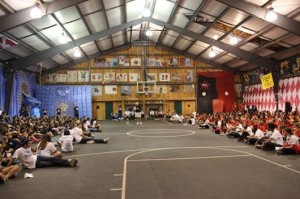 We have not lost our Olympic fever here yet! Have you? The day 5 morning was the strongest display of sportsmanship, comradeship and competition yet. A very important shout-out to the Senior Boys, the 14 year olds and second oldest on boys camp, who embodied everything that Camp Towanda Olympics is about. While they had the competitive spirit, they were honest with the Judgie's calls (even correcting points for the other teams at times), encouraging all their teammates, all the while playing an excellent game of volleyball. Their game really encompassed the general feel of this Olympics. All of the morning activities echoed these same principals and everyone felt the excitement building over the much anticipated Olympic Sing! We walked into sing with just about a 9 point spread in favor of the Red Jesters.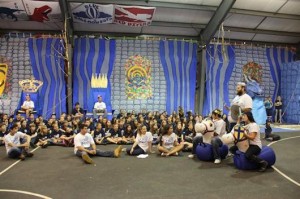 What a night it was! The teams cheered, marched, sang, clapped and joked about the summer and our 5 Olympic days. Everyone looked regal as ever in their team colors and shirts as we our Towanda Olympics came to an end. Camp got the chance to look at the plaques that will decorate our walls for years to come as well honor campers with the special "Olympiad" award which celebrates representatives from each campus for their outstanding behavior in the past 5 days. Camp would also like to extend a very special congratulations to Matt Miller who was awarded with the "Big O Award", which gives recognition to a Judge who has gone above and beyond to help make camp Olympics run smoothly.
And now the moment that you have all been waiting for– Blue Royalty won sing by a very small margin, but in the end, The Red Jesters held court as the winners of 2012 Olympics. Congratulations Red Jesters!! Believe it if you can but there was only a 2.2 point difference!!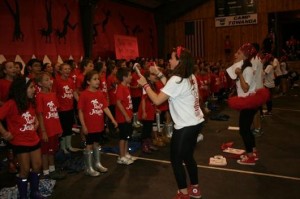 We closed our night as a Camp Towanda family, watching the Dorm of 2012 sing their Alma Mater again for the last time. Then camp linked shoulders in a mish-mosh of red and blue to sing Friends, Alma Mater, and Taps before going to bed.  We are all looking forward to a Lazy Day today! What a close and eventful Olympics to be a part of.  We hope you have enjoyed our coverage. Our team is moving up to London tomorrow!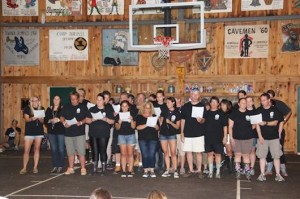 *A special thanks to our our correspondent, Judgie Lauren Cohen who has been reporting from the field.  Your blogs have been royally entertaining!