So, the weeks leading up to camp were damp, chilly, cold and raw up here in the rolling countryside of NorthEastern Pennsylvania…and we dreamed of hot summer days…there is no doubt that the summer has started off…..hitting 90 everyday so far!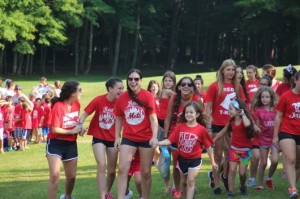 The spirit, friendships and smiles represent a feeling that we all have been here for a long time while it has really been only 4 full days so far! If you were a fly on the wall, you would not believe it!
From the Dorm Girls dressing up for Maniac Monday to the Club Boys dressing up for "Half Christmas" on Tuesday (a celebration they concocted). They even played Christmas music all day, which psychologically cooled us off.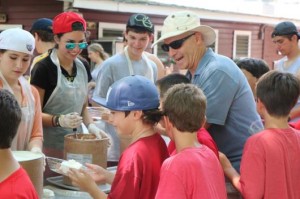 The younger campers look up to these groups as if they were larger than life…and everyone else supports and gets into that!
We extended lunch hour on Tuesday for make our own banana splits  (D-LISH)…the perfect way to chill out on a hot day!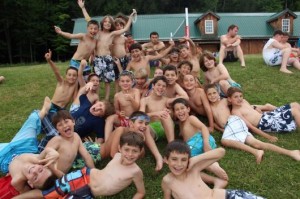 We've squeezed in General Swims whenever we can. Casper, the camp dog,  lifeguarded at the Tarzan Swing (making sure every single camper that dropped into the lake was safe).
Tuesday night, Steve Max returned to camp for his entertaining Simon Sez Show that got the whole camp involved!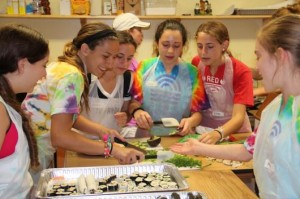 On Wednesday, Stephanie and I hung out with the Debs & Dillies and the Jets…they are sooo cute and lovin life at camp!
The Culinary Classes at the Farm made sushi, spring rolls, brownies, and banana cake .  Really, impressive!  Recipes coming soon!
We also had a heavy duty downpour at lunch on Wednesday so we extended mess hall time with a classic rock tunes dance party!  Playlist coming soon!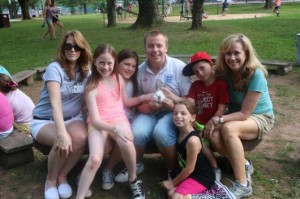 Lower camp groups experienced real down to earth nature classes today with our resident guru, Nathaniel!
Last night, I reffed an intense GHOST game between the Middie and Junior boys…wow! Fun, excitement and intense play!
We had to use the GOAT ALERT ALARM system this evening as our "goats", you know, our 2 miniature horses named Horsey and Donkey…escaped. What a scene with Casper and The Campers trying to round them up. Hey! Hay!
Afterwards, the LITs had a pizza party in the canteen. The CITs, who are excellent (also) ; enjoyed the sushi leftovers.
And The Dorm Girls were off campus at their Canoe trip.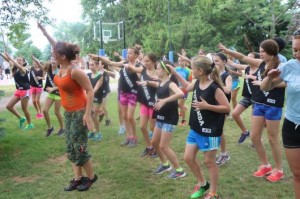 Camp is moving; the kids are grooving, the counselors have begun days off and we are enjoying every minute with the kids; Camp Towanda is truly a very special family.
Mitch