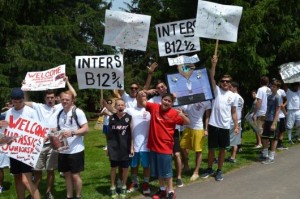 So much is about to happen! Get psyched, get ready, get packed; because the very special summer of 2014 is not very far away!
The busses roll onto the shores of Camp Towanda, your counselors await, holding signs, jumping up and down excited to welcome you to your bunk and group; the camp big sisters and big brothers tour their "littles" ; "the fun visit to the infirmary lawn", general swim, line-up, flagpole, spaghetti dinner, oreo brownies, free play and the chickens (producing real eggs these days), the staff welcome show, milk & cookies, taps and wow, that will be quite the day!
Before you know it, the birds are chirping, the sweet smell of pine and birch tree, reveille, breakfast with The Beatles and the first full day begins…. The dress for the day, Sports Quiz or a song to dance to on the way to either the boys or girls HC Shack, raising the flag and then….Activities, option periods, play rehearsal, canoe trips, the new treehouse, the foam pit, tombstone campfire, GHOST and certainly a smore by the new "Old Ghost Point" lakeside.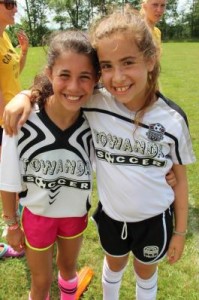 Teams, practices, games; challenges of chess, zip-line, T-slide or maybe even the bumper cars! Jokes, stories, special traditions and the camaraderie of new friends, old friends and special relationships forming!
Classic rock over the P.A. system; the donkey and the horse, the dinner bell, the walk to the lake, a golf cart limo ride (don't ask), Jonesy's cookies, BBQ at the lake, Grateful Dead on Sunday nights, Services and TGIFNF (Thank Goodness Its Friday Nite Flix)!!!
So much has been planned, so much is ready; even the Guinness Record breaking attempt this summer involves custom made Camp Towanda Yo-Yos and our Y0-Yo Master, Dan Green! …Olympics? Well, err, just maybe, but probably not because of the 25th year celebration… which is Alumni BBQ Day (the day after Visiting Day)…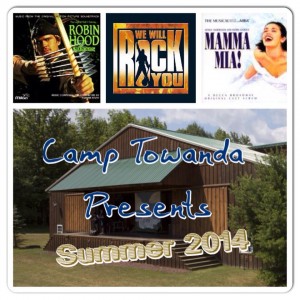 Amphitheater action starts with Upper Camp performing Queen's "We Will Rock You", Lower Camp entertaining us with "Mama Mia" and our "all camp" will be "Robin Hood: Men In Tights"!
In case you think there is nothing more to camp than daily activities and inter-camp games, don't forget about The Towanda Open, Unique Entertainment, The Dorms's HorseRacing, the 5-year club trip, scavenger hunt, campa-palooza, silly name day (that's right, I'm Tootsie Chicken Lips), Fireworks on the 5th, co-eding, and the camper talent show, Simon Sez with Steve Max ….and that my friends, is ONLY the first week of camp!
So much is about to happen; like the return of the great Kit-Kat Taste Test; this is the blindfold challenge that pits American Kit-Kats up against Canadian Kit-Kats and the rest of the world (We ask our international friends to bring Kit-Kats from their world to ours);