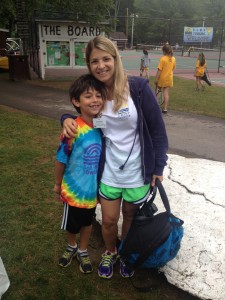 Written by Guest Blogger: Lauren Eckstein Forman, Social Media Director at Camp Towanda and Dorm '92.
Last weekend was not my typical work weekend at Camp Towanda.  It was extra special.  Because not only was I "Lauren Eckstein-Forman: Social Media Director", but I was "Lauren Forman: Mom of a Rookie".  Wearing two name tags, I looked as if I was having an identity crisis.  Because last Saturday, I wasn't working…I was just a CAMP PARENT…and my son was a ROOKIE!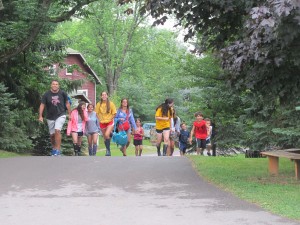 After he raced up the hill to meet me at the white rock, he got his FIRST TOWANDA TEE! I'm not sure there is anything better than seeing your own child in a Towanda tee!  Close behind him were many new "Rookies" and families who were soon familiar faces.  But possibly the second coolest experience (next to the Towanda Tee) was that my son was going to be a ROOKIE with three of my camp friends' kids! My three friends ran up that hill just like they were getting off the bus at camp over 25 years ago! With the same excitement, anticipation and sisterly love!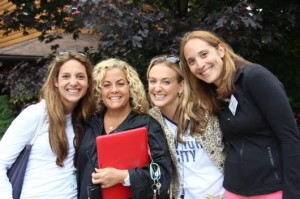 And now our kids were experiencing camp together.  Bobby and Amy would be their head counselors!  Mitch and Stephanie would be their summer parents!  And Casper would be their summer dog!  AMAZING.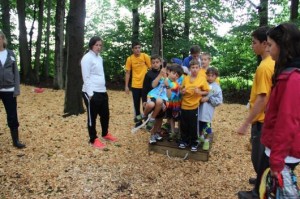 After playing with Casper, checking out the new SUPER-COOL Lego Room (a Rookie favorite) and eating a delicious Towanda bagel, my son was whisked away to hang with the Jets! Each ROOKIE was given an LIT "Big Brother or Sister" to spend the day with.  They helped carry their backpack, give a piggy back ride, answer any questions, help them at the salad bar, and make them feel at home.  My son was off and now it was my turn to be just a parent.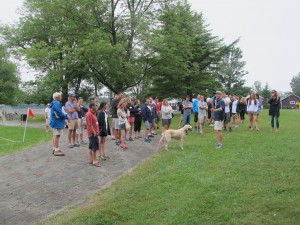 Mitch, Stephanie, Bobby, Amy and Jared gave an amazing walking tour of camp!  Even though it was a cool, cloudy day, you could still feel the warm spirit and energy that is Camp Towanda! I loved hearing new parents walking and talking about how they could feel this is such a special place (and the alumni and staff supporting them with reassurance that this really IS Camp Towanda…it feels like this EVERY DAY).  All the campers and staff could not have been more welcoming and wonderful.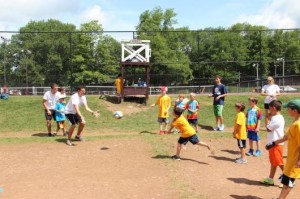 It was also fun introducing Camp Towanda to the spouses of the returning Alumni.  It didn't take long until they understood why their wives were so obsessed with Camp Towanda!  From the cheering in the dining hall to the participation and excellent instruction on the ball fields and courts, you could sense all the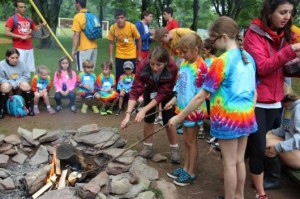 parents wanting to jump in! The Camp Towanda spirit is just contagious.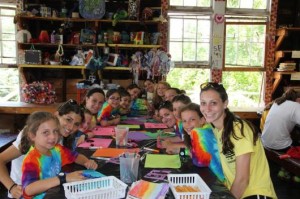 Our kids had an action-packed day with the campers of their age group.  O&A (outdoor and adventure), Gaga, Gymnastics, Arts & Crafts, Ghost, Waterfront, beach volleyball AND S'MORES around the campfire! It introduced them to camp in a very fun and safe way, and showed them what they can look forward to next year (i.e. swimming in the lake!).
The kids and parents were reunited at 3pm.  The parents may have been more tired than the kids! The kids could have stayed all day!!! Overall it was the perfect introduction to camp. Everyone got quality time with Mitch, Stephanie, Amy and Bobby, which was a real treat (for the parents, this may have been even better than a Jonesy Cookie!).  So many families have already made the decision that Towanda is their new summer home! I think these girls really said it best: https://vimeo.com/70825668.  How cute are they?!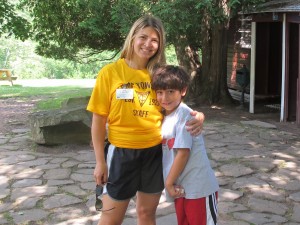 Now I can go back to the job I love and just one name tag…but I cannot wait to be known as "Ryan's mom at Camp Towanda"! And I know he feels the same way too!  He was made for this camp! CLUB 2021!!!
For more Rookie Day highlights, check out last week's edition of Friday Nite Flix: https://vimeo.com/70725033.