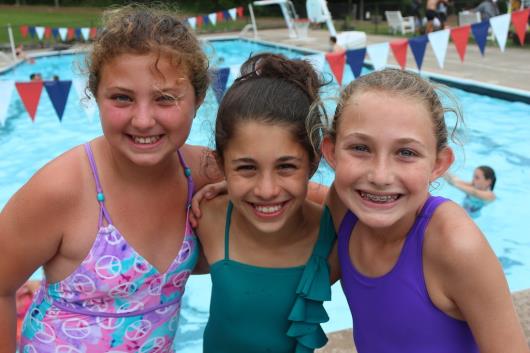 Late reveilles, extra General Swims and Snow Cones! Just 3 ways we are beating the heat here at camp. I was splishing and splashing on the water slide with your kids! The lake feels warm (chilly when you dangle your toes).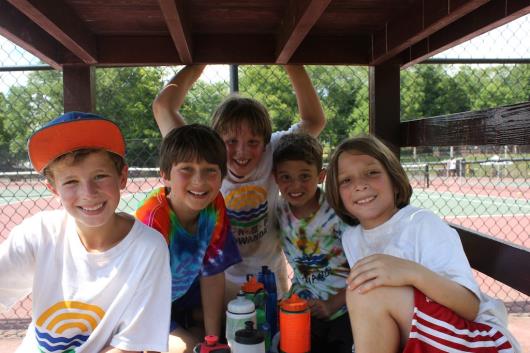 The Morry's Camp Swim A Thon, organized by the LITS started this week (kids are swimming to raise money to send underpriveged children to camp…going rate has been a dollar a lap and the Steph and I match the total…last year we raised $13,000 and helped send 1500 kids to camp)…. A great lesson the kids learn here.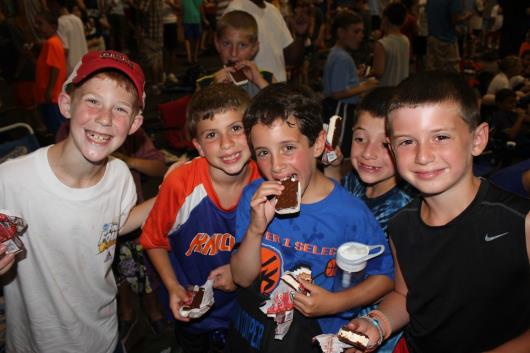 Fudgicles, snow cones and ice cream sandwich treats are keeping us COOL; we run on fusion water; and lots of sunscreen. We changed the names of our chickens to Broiled, Fried, Baked, Roasted, BBQ'd and Tender!
A very entertaining HYPNOTIST show on Monday night in the amphitheater; some good belly laughs from the crowd as counselors went under the spell! After the show, the crowd read my mind and we surprised everyone with a McDonald's treat. The best part is when Stephanie drives up to the window at McDonalds' and says, "….can I have 300 hamburgers, 189 cheeseburgers, 2 burgers with no ketchup and 3 with extra cheese, 7 with onion and a happy meal toy!"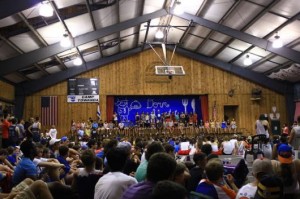 Monday night was GIRLS' SING.  One of those nights we wish you could be a fly on the wall. The girls were magical and terrific; the sense of pride, preparation, content, scenery, choreography, costume, scenery, sisterhood and love was intense…Every group presented impressively.   Steph and I (and The HCs, Group Leaders and bunk counselors) cried at the presentations. Beyond cute, beyond cohesive bonding…….it was a great show.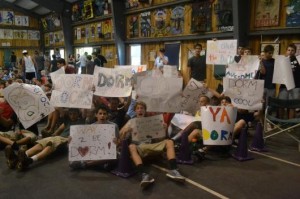 And the boys were attentive respectful and appreciative… In fact, each corresponding boys group made signs and posters in support of "their" girls group.
The judges declared The Inter-Nats the winner in a very close score!  And in the end, they Club hugged the Dorm Girls, who wrote and performed an amazing alma mater to share with the entire camp (lyrics will be posted on the blog shortly). You just can't get this experience anywhere else!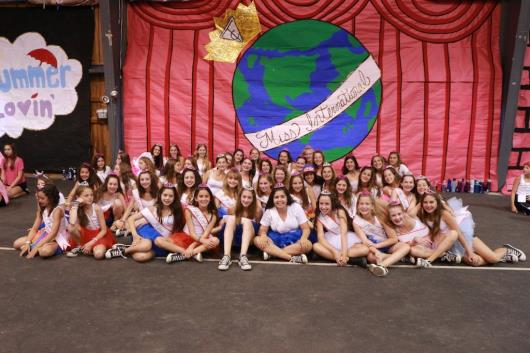 Afterwards, Stephanie and I walked around the girls bunks and we are proud to say that everyone was holding their head high, realizing that winning wasn't the goal, but working together, doing one's best and being happy for others WAS THE GOAL!
A great teachable and GROWING moment of the summer!
Just in case you missed our "LIVE TWEETING" on Twitter of the themes…here they are:
The DEBS & DILLS ON DECK (beyond cute)
THE TWEENS & JUNIORS KICKIN IT OLD SCHOOL (energetic)
MISS INTERNATIONAL BEAUTY PAGENT  (innovative)
SENIORS' SUMMER LOVIN' (together)
DORM APPETIT '   (in sync)