Two Terrific Towanda Days to recap.  Camp is in the groove; the kids are relaxing, participating, spirited and having fun. As Steph and I walked around during activities we watched our staff just as enthusiastic as the campers!
Every single activity had wonderful instruction, skill development and involvement; from volleyball to basketball to tennis to hockey, softball to gymnastics (which everyone loves), and more!  The Garden Club has already enjoyed some arugula and radish from Stephanie's garden.  And Damn Yankees rehearsals are looking good.
Yesterday started with a Porch breakfast buffet (yogurt, blueberries, strawberries, granola, health bars, cereal, eggs and juice) on the picnic table lawn. In the afternoon we had our annual Campa-pa-looza outdoor concert from the Walking Heroes in our amphitheater in the sun and warmth (finally)!  After the music , everyone went bananas when they got to make their own banana splits!
Evening activities are in full swing.  Lower Camp has been spending their nights on the zipline, in a scavenger hunt and we even had a duct tape fashion show from the younger girls (really quite impressive…who knew duct tape came in other colors than grey!).  Upper Camp is enjoying everything from a beautiful BBQ dinner lakeside to their "black out" social (everyone wore black) to our very own UNIQUE entertainment game show!
As for our oldest campers: The Dorm Girls returned from their overnight Canoe trip and said it was awesome.  The Club Boys had their special ceremonial campfire (shhh, I can't talk about it) which included a beautiful setting moon and a still, silent and warm night!!!!
We hope everyone has been enjoying ALL the photos on CampMinder! A parent stumbled on this blog and shared it with us (Click here to read). It has some good laughs and a great moral to the story.  We hope you appreciate this self-depricating perspective on "THE PICTURES".  The blog also featured a great cartoon that's also in our Parent Guide.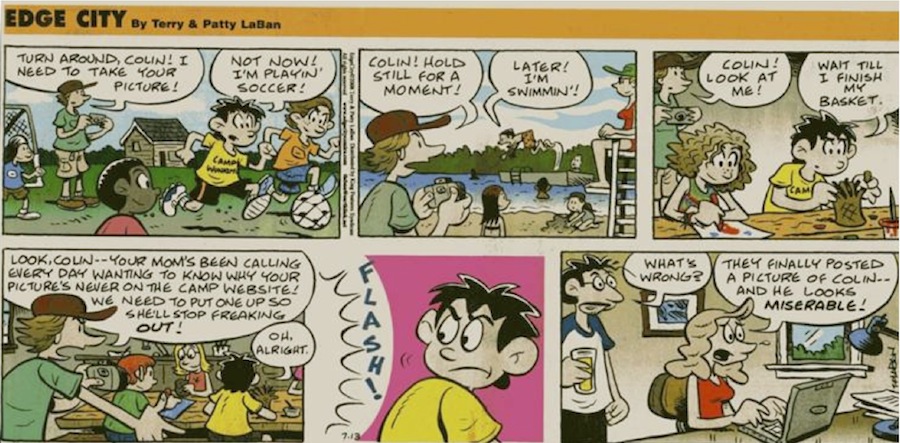 Camp eagerly awaits the first official installment of Friday Nite Flix later tonight and we hope you are as excited as we are! Wishing everyone a great weekend (we know we'll be having a blast!).
Mitch