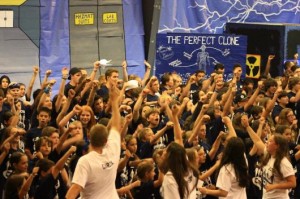 2013 Olympiad came to a close with an incredibly spectacular Sing Night and an emotional evening for everyone.
The Field House was transformed into a BLUE CLONING factory with impressive special and entertaining special effects AND A FRENDLY AND FUN ZOMBIE GRAVEYARD. Skit Entrances, Songs, Comic songs and plaques were  presented.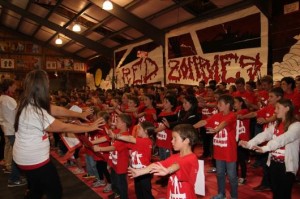 After an entertaining and electric evening the Blue Clones won Sing and the RED Zombies won Olympics by just 94 points (out of over 5000)!
Camp came together as the Dorm Girls sang their Alma Mater one last time and then the Club Boys joined them to lead the entire camp with Friends, Alma Mater and Taps.
A great week of sportsmanship, incredible positive attitude, healthy competition, fun and life-long bonding memories.  Olympics at Camp Towanda ties together everything we have worked towards this summer.  We all feel great!
Here are the official songsheets from the Red & Blue teams and the Judgies. Sing along and enjoy!