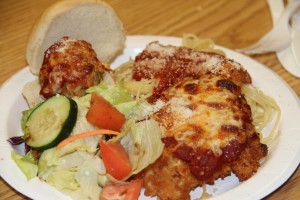 Buongiorno Towanda! We are busy planning our 2015 Culinary Menu at Camp Towanda and will be cooking up some exciting things this summer.  Don't forget to sign up for our acclaimed Culinary program in your Campminder Docs! By popular request, today we are sharing our delicious Italian Menu and recipes from last summer featuring our house salad with balsamic vinaigrette, chicken meatball sliders, chicken parm and camp cannolis of course!
HOUSE SALAD w BALSAMIC VINAIGRETTE DRESSING:
 Ingredients:
Lettuce of your choice (romaine, iceberg, spring mix, etc)
1 Sliced Cucumbers
2 Sliced Tomato
2 Sliced Carrots
1 1/3 c Olive Oil
2/3 c Balsamic Vinegar
1 tsp garlic powder
4 T sugar
½ tsp ground pepper
Directions:
After cleaned, add the following to a large salad bowl: lettuce, sliced cucumbers, sliced tomato, sliced carrots.
In a separate bowl, make dressing by emulsifying the following: olive oil, balsamic vinegar, garlic powder, sugar and ground pepper.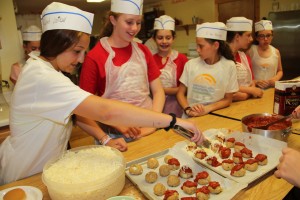 CHICKEN MEATBALL SLIDERS:
Ingredients:
15 slider buns
1 lb ground chicken breast
3⁄4 cup Italian breadcrumbs
1 cup fresh grated Parmesan cheese
3 garlic cloves, pressed
1⁄2 small onion, grated
2 Tbsp + 1 cup marinara sauce (divided)
1⁄2 Tbsp dried Italian seasoning
2 Tbsp fresh basil, chopped
2 Tbsp fresh parsley, chopped
1⁄2 tsp kosher salt
1⁄2 tsp fresh cracked black pepper
1 large egg, lightly beaten
1 cup shredded Italian blend shredded cheese
Directions:
Preheat oven to 350°F. Prepare a baking sheet by lining with parchment paper.
Set aside 1 cup marinara and shredded Italian cheese.
In a large mixing bowl , combine all remaining ingredients. Mix well, do not over mix or you will
have tough meatballs. Using a 2 tablespoon scoop, portion out meat mixture and place on baking sheet. After all meatballs have been scooped onto tray, roll into balls.
TIP: If you lightly wet your hands the meatballs will form better and crack less. Bake for 16-18 minutes until lightly browned.
Turn oven to broil.
Drizzle a spoonful of marinara over each meatball. Sprinkle with shredded cheese.
Broil for 2-3 minutes until cheese is golden brown and bubbly.
Place in slider bun and enjoy!
CHICKEN PARMESAN:
Ingredients:
12 boneless, skinless chicken breasts, pounded thin
Salt and freshly ground black pepper
4 cups all‐purpose flour, seasoned with salt and pepper
12 large eggs, beaten with 6 tablespoons water and seasoned with salt and pepper
2 cups panko bread crumbs
3 cup vegetable oil
2 pound fresh mozz, thinly sliced
¾ cup freshly grated parmesan
Parsley for garnish
Sauce:
6 tablespoons olive oil
3 large Spanish onion, finely chopped
12 cloves garlic, smashed with some kosher salt to make a paste
6 (28‐ounce) cans plum tomatoes and their juices, pureed in a blender
3 (16‐ounce) can crushed tomatoes
3 small can tomato paste
3 bay leaf
2 small bunch Italian parsley
2 Cubano chile pepper, chopped
Salt and freshly ground pepper
Directions:
Preheat oven to 400 degrees F.
Season chicken on both sides with salt and pepper.
Dredge each breast in the flour and tap off excess.
Dip in the egg and let excess drip off.
Dredge on both sides in the bread crumbs.
Divide the oil between 2 large saute pans and heat over high heat until almost smoking.
Add 2 chicken breasts to each pan and cook until golden brown on both sides, about 2 minutes per side.
Transfer to a baking sheet and top each breast with some tomato sauce, a few slices of the mozzarella, salt and pepper, and a tablespoon of Parmesan.
Bake in the oven until the chicken is cooked through and the cheese is melted, about 5 to 7 minutes.
Remove from the oven and garnish with basil or parsley leaves.
Tomato Sauce:
Heat olive oil in a medium saucepan over medium heat.
Add onions and garlic and cook until soft.
Add pureed tomatoes with their juices, crushed tomatoes, tomato paste, 1 cup water, bay leaf, parsley, Cubano pepper, and bring to a boil.
Season, to taste, with salt and pepper.
Reduce heat and cook until slightly thickened, about 30 minutes.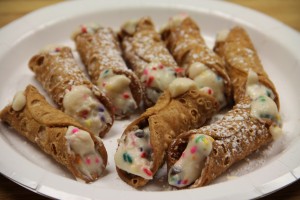 CANNOLIS:
Ingredients:
1 (32 ounce) container ricotta cheese
1/2 cup confectioners' sugar
1 cup chopped candied citron
4 ounces semisweet chocolate, chopped (optional)
Directions:
Stir together the ricotta cheese and confectioners' sugar using a spoon.
Fold in the chopped citron and chocolate.
Use a pastry bag to pipe into shells, filling from the center to one end, and then doing the same from the other side.
Dust with additional confectioners' sugar and grated chocolate for garnish when serving.
About Camp Towanda:
Camp Towanda is an independent, traditional, co-ed sleep-away camp in the Poconos in Pennsylvania. It is privately owned, operated and directed by Mitch and Stephanie Reiter.  For over 90 years, Camp Towanda has continued to define what camp should really be. Our program offers state-of-the-art facilities, an excellent and professional athletic department, waterfront, extensive arts, drama and adventure programs, culinary cooking classes, and special events.  We are highly regarded and respected as an industry leader and are involved in giving back to various organizations throughout the year.  Camp Towanda is accredited by the American Camp Association and a member of the Camp-Alert-Network, Wayne County Camp Association, Camp Owners and Directors Association and the Pennsylvania Camp Association.