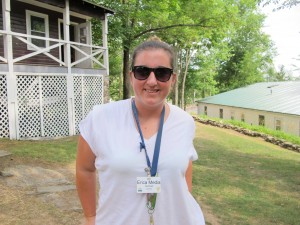 This is "Erica Media"'s 7th summer at Camp Towanda.  While she is usually behind the camera, producing Friday Nite Flix or managing her amazing team…a couple of weeks ago, Erica gave a beautiful sermon at Friday Night Services (proceeding another amazing Friday Nite Flix of course!).  Enjoy:
My experience at Camp Towanda has not been the typical experience. I may not have grown up at camp in the traditional sense, but I have, in fact, grown up at camp. This summer marks my 7th year as a member of the Camp Towanda family. It seems appropriate that 7 is a lucky number and this is, of course the lucky summer of 2013. Luck, or fate, definitely played a small part in my arrival at camp. In the winter of 2006, as I was trying to dwindle down my summer employment options, it came down to two camps; Camp Towanda, and another camp. Although I didn't know it at the time, I did perhaps the single most important thing I've ever done; I flipped a coin, and it came up Towanda. Even during my first summer, I knew I had discovered something very important, and something special. It didn't take long before Mitch started talking to me about what we would do the next year, and the year after that, and of course, the year after that. Camp is a part of my life. It's a huge part of my life. During the past 7 years I have lived in 6 different apartments in 3 different countries and the only place I have known that I would truly feel home was Camp Towanda. Camp is so much my home in fact that my mail gets delivered here, all year round. Often at camp you hear people talking about the real world, or returning to real life, but for the lucky few of us, Camp is real life. We still live 10 months for two but instead of boarding the buses in August and figuratively carrying camp with us, we literally hold on to camp throughout the winter preparing for the day when the campers will once again wash upon the shores of Towanda.
At the end of each week, and each summer, I am entrusted to produce Friday Nite Flix and with each episode I try to produce the best FNF I can and present it as my gift to camp but no matter how good each show is (and I do hope you enjoy them), it doesn't compare with the gifts camp has bestowed upon me.  Camp has provided me with the opportunity to grow, both personally and professionally, to learn and to make mistakes. There is no way to truly express the importance of the friendships I have made here. Towanda is a beautiful camp with amazing facilities, but it is the people I have met here who have truly had a lasting impact on me. Through good times and bad, both at camp, at home and around the world, there is no one you can count on like someone from Camp Towanda. Every person you see around you is a potential life long friend. Friendships are very easily to come by at camp, but you must remember how valuable they really are. Praise your friends when they are doing good and support them when they need it. Tell you're friends what they mean to you, as I hope I am telling all of you. I just want you all to know, I think you're awesome.
To Bob and Amy, Lisa and Michael, I thank you for letting me share in your families, and for providing support and wisdom. To Mitch and Stephanie, who I to look to as my summer parents, I must say thank you. Thank you for helping me along the way, celebrating milestones with me, allowing me to stumble but never letting me fall. I hope everyday to make you proud.
There is no greater feeling then knowing you are loved and supported and all of you provide that feeling for me. If happiness could be located using a map, or maybe a gps, it would bring you here, to Camp Towanda.