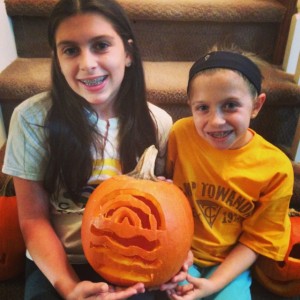 The second annual Camp Towanda Pumpkin Carving Contest was a huge success (winner to be announced soon). But now that it is November, what are you going to do with all those festive Camp Towanda-themed pumpkins decorating your porches? Well our very own Chef Ben has a great idea! How about making some vegetarian Pumpkin and Black Bean Enchiladas!
Here's a great recipe. Don't forget to post your pix #ImACTChef or email them to [email protected].
Pumpkin and Black Bean Enchiladas
1 cup enchilada sauce
1 TBSP olive oil
1 small spanish onion, small dice
2 cloves garlic, minced
1 jalapeno, finely chopped
1 cup cherry tomatoes, cut into quarters
2 cups pumpkin, cut into small cubes
1 can black beans
1/4 cup vegetable stock
1/8 cup fresh cilantro, chopped, plus more for garnish
1 tsp cumin
1 tsp smoked paprika
1 tsp chili powder
Salt, to taste
10 corn tortillas
scallions, for garnish
Queso Fresco or Mexican Cheese blend
Limes, for garnish
Avocados, for garnish
Preheat oven to 400 degrees F.
Pour 1/2 cup of the enchilada sauce in the bottom of a baking dish.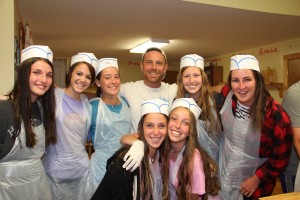 Heat a large sauté pan over medium heat. Add olive oil. Sauté onions and jalapeno until onions are soft and translucent. Add garlic and cook briefly. Add tomatoes, black beans, pumpkin, spices, cilantro, and chicken stock. Bring to a boil and reduce heat to a simmer.  Simmer until pumpkin is soft, about 30 minutes.
Warm tortillas so that they are soft and pliable. Fill tortillas and roll. Place seam side down in the baking dish. Pour remaining enchilada sauce on top. Sprinkle with a generous amount of cheese. Bake for 8 minutes, just so that cheese is melted.
Garnish with fresh scallions, cilantro, limes, and avocado.
About Camp Towanda:
Camp Towanda is an independent, traditional, co-ed sleep-away camp in the Poconos in Pennsylvania. It is privately owned, operated and directed by Mitch and Stephanie Reiter.  For over 90 years, Camp Towanda has continued to define what camp should really be. Our program offers state-of-the-art facilities, an excellent and professional athletic department, waterfront, extensive arts, drama and adventure programs, culinary cooking classes, and special events.  We are highly regarded and respected as an industry leader and are involved in giving back to various organizations throughout the year.  Camp Towanda is accredited by the American Camp Association and a member of the Camp-Alert-Network, Wayne County Camp Association, Camp Owners and Directors Association and the Pennsylvania Camp Association.