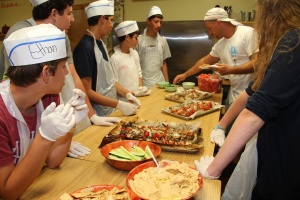 What's Cookin' in the Camp Towanda Culinary Kitchen? This summer, our campers were busy cooking up delicious dishes at the CT Culinary Country Kitchen. Chef Ben's classes were very popular and no one left hungry! We learned how to make everything from Chicken Parm to Cannolis, Quesadillas to Guacamole and Egg Rolls to Sushi!
Just in time for Labor Day Weekend, we are sharing our Mediterranean Menu– refreshing, tasty and healthy (well…except for the Fried Oreos, but at least they will make you think of the Wayne County Fair!).  Make this with your "home family" and think fondly of camp….P.S. all recipes are "group-size" and serve 12-15 people! So invite the neighborhood!
WATERMELON & FETA SALAD:
Ingredients:
1 c balsamic vinegar
1 T sugar
25 pcs 4×2″ cubed watermelon
10 oz feta cheese crumbled
2 T shredded mint
Directions:
In a small saucepan, whisk together the balsamic vinegar and sugar. Cook over medium heat until reduced by half and syrupy, about 4 minutes.
Stack pieces of watermelon on each plate and drizzle balsamic reduction. Sprinkle with feta cheese and mint and serve.
HUMMUS: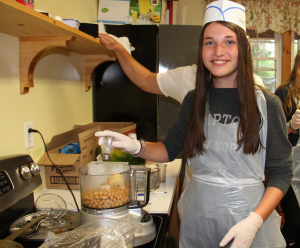 Ingredients:
2 Cloves of Garlic
2 Cloves of Garlic, Chopped
2 Cans (19oz) Garbanzo, half liquid reserved
½ C Lemon Juice
¼ C Tahini
2 t Salt
¼ C Olive Oil
Black pepper to taste
Directions:
In a blender, chop the garlic. Pour garbanzo beans into blender, reserving about a tablespoon for garnish.

Place lemon juice, tahini, chopped garlic and salt

in blender.  Blend until creamy and well mixed.

Transfer the mixture to a medium serving bowl.
Sprinkle with pepper and pour olive oil over the top.
Garnish with reserved garbanzo beans.
Blend until creamy and well mixed.
Transfer the mixture to a medium serving bowl. Sprinkle with pepper and pour olive oil over the top. Garnish with reserved garbanzo beans.
CHICKEN & VEGETABLE KEBOBS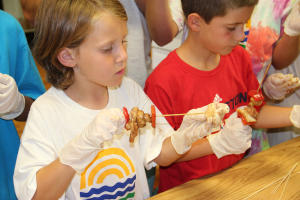 Ingredients:
1 C Olive Oil
1 C Balsamic
Salt
Black Pepper
Red Chili Flakes
Garlic
Chicken Breast Chunks
Peppers
Onion
Mushrooms
Skewers
Directions:
In 2 separate containers (or Ziploc bags) combine olive oil, garlic, balsamic, lemon juice, red chili flakes, salt & pepper. 1 container is for chicken, the other add Peppers, Onion + Mushroom. Let marinate for 1 – 4 hours (or longer if you have time).
On each skewer, alternate chicken & vegetable.
Bake in oven at 375 degrees for 15 minutes.
GREEK YOGURT WITH HONEY & FROZEN GRAPES AND FRIED OREOS!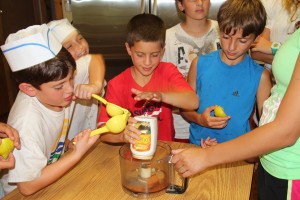 Ingredients:
Oreos
Instant pancake mix
Greek yogurt
Grapes
Honey
Vegetable Oil
Powdered sugar
Directions for Grapes & Honey:
Freeze grapes overnight.
Place yogurt in 1 large bowls or individual bowls.
Drizzle in the honey and mix. Add frozen grapes as desired or just eat alone.
Directions for Fried Oreos:
Add water to instant pancake mix.
Cover Oreo completely in pancake mix.
Fry in vegetable oil until golden. Let cool and top with powdered sugar.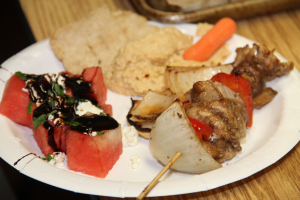 Copyright 2014- Camp Towanda
About Camp Towanda:
Camp Towanda is an independent, traditional, co-ed sleep-away camp in the Poconos in Pennsylvania. It is privately owned, operated and directed by Mitch and Stephanie Reiter.  For over 90 years, Camp Towanda has continued to define what camp should really be. Our program offers state-of-the-art facilities, an excellent and professional athletic department, waterfront, extensive arts, drama and adventure programs, culinary cooking classes, and special events.  We are highly regarded and respected as an industry leader and are involved in giving back to various organizations throughout the year.  Camp Towanda is accredited by the American Camp Association and a member of the Camp-Alert-Network, Wayne County Camp Association, Camp Owners and Directors Association and the Pennsylvania Camp Association.