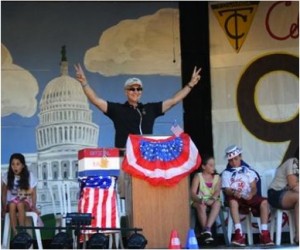 Dear Constituents,
What a great evening we had last night!  Our annual Electionality convention was fun, exciting, cute and terrific. Electionality is an event where we vote for our Camp Presidents (a co-ed ticket from upper and lower camp) and also where our campers (aka "Delegates) of all ages get to show us their creativity, making up their own "States"! The different States (or groups) campaigned for their favorite ticket as the camp presidential candidates presented very entertaining (laugh out loud, belly hurting laughs) speeches.
In the end, it didn't matter who won, everyone had a great time. To view a small segment of the campaign trail, check out this live news report: http://vimeo.com/45484781
We hope you enjoyed our live tweeting of the "2012 States" on Twitter (twitter.com/camptowanda).  But in case you missed it, here is a complete list.  We promise more "live tweeting" from future events!
Debs – State of Jay Fray
Jets – State of Men in Black
Dillies – State of One Direction
Cadets – State of Being Really Really Really Ridiculously Good Looking
Tweens – State of 80s
Middles – State of Late Reveille
Junior Girls – State of States
Junior Boys – State of the Hashtag
Inter Girls – State of the Alphabet
Inter Boys – Sean and State Plus 28
National Girls – State of the National Hippies Sugar Magnolia
National Boys – State of Orange Juice
Senior Girls – State of Yaz
Senior Boys – State of Quailman
Dorm – State of Prancing
Club – State of Superheroes
LIT Girls & Boys – State of the IWA
…..and that's the report from Camp Towanda!
Mitch