Reflecting on Visiting Day 2015, a common theme of the summer comes to mind: Top 10! Back in June we did a video about the "Top 10 Things to Look Forward to This Summer" (which was a tribute to our Letterman video in 2000). What we could have included on that list (for the parents, at least) was Visiting Day, but not for the reasons you may think!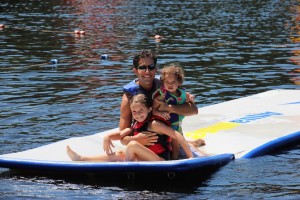 Yes, of course it's amazing to see your kids after 4 short weeks, give them a 10 minute hugs and shower them with dozens of treats, but it makes our list because it's a chance for you to really see change and growth in your child, with the gift of perspective and time.
It helped that Saturday was a "Top 10" weather day, but overall we have so many parents telling us the many other reasons why it was a perfect 10! Here's a few we would like to share:
Top 10 Reasons Why Parents Told Us Visiting Day Was a "Top 10 Day"!
The smiling faces of the campers, staff and visiting families, walking around camp with their feet barely touching the ground.
The true brother and sister relationships the campers have with each other and how their friendships are different because they live together, play together and work together.
The nice relationships the camp parents form with each other over the years– from that first summer right thru the last (we saw many camp parents crying from the Dorm, Club and LITs- sad to see this as their last visiting day).
The authenticity of our staff (who we are so proud of). The kindness, the care and the effort you see them put into their job; wanting to get to know the parents of the campers who have been their kids for the summer! From first year counselors to the senior staff and group leaders— there is no greater comfort than knowing your kids are in great hands.
The thank yous our campers give their parents. Not just for all the "stuff", snacks and Vistiting Day treats..but more importantly "thank you for sending me to this camp". Not sure there is anything better than true gratitude from a 10 year old.
The joy of seeing your camper the happiest they have ever been. Back at home, parents are proud of grades, trophies and accomplishments. But at camp, parents are proud to see their children happy, comfortable, confident and trying new things outside their comfort zone. As Dr. Michael Thompson said "we cannot make our children happy", but after Visiting Day, I think parents will agree that camp sure can!
The excitement camper has to share something that is completely their own. Even for alumni parents, there is nothing better than experiencing camp through your camper's eyes. Getting to experience your child show them THEIR CAMP, THEIR BUNK, THEIR FRIENDS, THEIR WORLD. Because it's something they can own and take pride in, knowing it's special.
The possibilities. When you send your kid to camp, in just 4 short weeks you don't even realize the growth and development that is possible when they are away from home. Imagine what can happen in just 3 more weeks!
The sibling love. Whether your siblings are at camp, enjoyed sibling sleepover or just spent the day together. Camp makes siblings appreciate each other so much more.
The pride in being a part of the Camp Towanda Family. It's not easy these days to be surrounded by hundreds of families, staff and Camp Directors who share the same down-to-earth values and can spend the day in harmony.  The energy at our Visiting Day is not chaotic, stressful or emotional. It is peaceful, joyful and a celebration that no one takes for granted.
We are going to ride the Visiting Day high right into Trip Week and then who knows, maybe there will be Olympics. Camp only gets better from here on out!!! Oh if you could just be a fly on the wall…