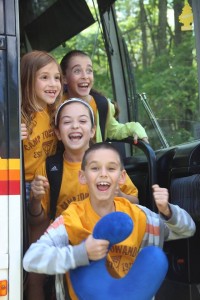 You made it. 7 weeks ago, you let them go, with tears behind your sunglasses, and trusted us with your precious cargo.  When we return them to you on Friday, you will feel a change, you will see a change and you will feel pride that you gave your kids the best gift you ever could have given them.  They may not be able to tell you every detail you want to hear.  They may be emotionally drained from saying goodbye.  They most likely will spend their days reconnecting with camp friends and holding on to every last memory, experience and bond.
We have given you a peak into their experience. You have looked through thousands of photos this summer, made Friday Nite Flix a Saturday morning ritual and checked the Camp Cam every now and then (speaking of which- we are proud of you parents for only crashing the camp cam a couple times this summer!).  Now is their turn to share their side of the stories.
Gone are the innocent days when parents picked up their child from the bus and asked how Olympics broke out.  In the old days, parents really had no clue and were so excited to hear it all! We know that "you know", but please pretend like you don't and ask all the same questions.  Hear what they saw, what they experienced, what they conquered. Their stories are better than any photo we may have captured.
Speaking of photos, if you saved their Campminder photos, let your camper see them! Maybe they will want to share them with you from their perspective (if they choose to keep those moments to themselves…that's okay too).  Remember when you thought your child missed an activity because they weren't in the group photo? Wait until they tell you they were laughing so hard they needed to run to the bathroom! Have them sing you their Olympics songs (we posted the song sheets on the blog). Let them make you a camp meal (our digital Culinary Kitchen Cookbook is coming soon!). But also realize this was THEIR experience and they may not want to share it all.  It is an experience they can hold as their own and only something they and their camp friends can truly understand.   And that's what makes it so special!
You will notice change…we cannot promise it will all last (especially living unplugged-and not only surviving but thriving, reading at rest time, making their beds, eating with napkins on their laps and cleaning their showers).  We hope as parents you learned and grew from this experience as well (I know I have!).  See which of these "changes" you can make last, because we know your kids can do it!  Consider adding some "tech-free" times to your family routine…you can even call it "Towanda Time!"–THAT will get them into it!
You made it. They did it. And we can't wait to do it all over again in 317 days.
About Camp Towanda:
Camp Towanda is an independent, traditional, co-ed sleep-away camp in the Poconos in Pennsylvania. It is privately owned, operated and directed by Mitch and Stephanie Reiter (who are celebrating 25 years as owners and directors).  For over 90 years, Camp Towanda has continued to define what camp should really be. Our program offers state-of-the-art facilities, an excellent and professional athletic department, waterfront, extensive arts, drama and adventure programs, and special events.  We are highly regarded and respected as an industry leader and are involved in giving back to various organizations throughout the year.  Camp Towanda is accredited by the American Camp Association and a member of the Camp-Alert-Network, Wayne County Camp Association, Camp Owners and Directors Association and the Pennsylvania Camp Association.