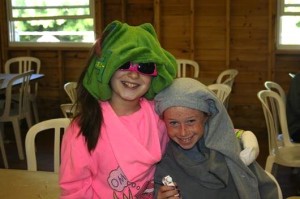 BACKWARDS DAY was a hoot!
Dinner in the morning, breakfast at night. Taps in the morning, Reveille at night.
We enjoyed a beautiful, sunny, mild, breezy day filled with great Inter-Camp games!
COUNSELOR HUNT was the evening activity (like hide and go seek….counselors hide, campers find them, each counselor is worth a certain number of points, but we don't learn their value until the end!). Can you believe I was worth negative 100 points!?
Then at Under The Lights I challenged Lower Camp to a backwards shot from half court on the main basketball court.  I thought I was being cute and said if you give me 5 chances and I sink it, then we will have a late reveille, a breakfast on the lawn and you can come to breakfast in your PJs.  Well, I made the shot!
The Senior, Club and Dorm trips to Montreal, Niagara Falls and Boston trips have all checked in.  Inters are back from a great trip to Cooperstown; as are the National Girls from their Canoe Trip.
Today we have trip day to cool down and relax at the movies (there is lots of excitement coming in the next two weeks!).  And then Goldrush in the evening!
I had to share this wonderful letter we received from a first time parent, who actually suggested we share this with all of you!
Dear Mitch and Stephanie,
Wow! Wow! Wow!  Being a sleep away camp "First Year " Mom, I really didn't know what to expect this summer in general and especially on VISITING DAY!.
Well, when I saw my daughter on visiting day I broke down like a baby!  Crying and shaking I had missed her soooo much!  We had such a fabulous day and I was dreading the end of the day because so many of my friends who send their kids to other camps told me what a nightmare the departure could be.
I actually  found the departure to be a PIECE OF CAKE because I SAW WITH MY OWN EYES HOW HAPPY SHE WAS, THE LOOK ON HER FACE, THE HUGS SHE EXCHANGED WITH PASSING COUNSELORS AND CAMPERS!
I left feeling confident and thrilled for my child that she was having a once in a lifetime experience.  Her  "first"  (of many) years at Towanda! Did I mention she never looked better!?!   Thanks for truly caring about these kids and running a tight ship!