This is it- Camp Towanda Olympics 2015! Get all the details from Mitch's email to our parents this morning, describing the scene at Camp Towanda, starting at 3:30am! Good luck Red Team. Good luck Blue Team!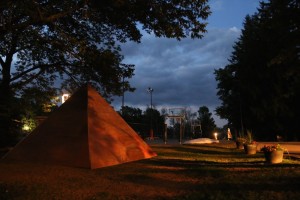 Time: 3:30 AM
I'll try my best to capture what transpired; perhaps you even caught some of it on the live camp cam if you dont sleep!
A few "on a need to know basis" personnel assembled at four different points at key locations around our 235 acre complex; connected through special coded radio channels.   The truck moves in and out the darkness of the night, a pyramid is assembled near The White Rock.  Simultaneously, the Generals slither to their starting points, get into costume and the Camels unload from their carrier (they came from Wisconsin).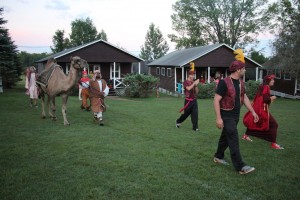 Time: 5:59 AM
All ready, all get into place and at exactly 5:59 AM a special, extra loud, remix of REVEILLE, THE GOAT ALERT ALARM, IS ANYBODY OUT THERE AND WALK LIKE AN EGYPTIAN  blasts the campuses over the P.A. system.
Screams, cries and shrieks bounce across campus; the kids come running out of their bunks at dawn in their pajamas, bewildered. They see a camel surrounded by a harem of Generals walking through campus.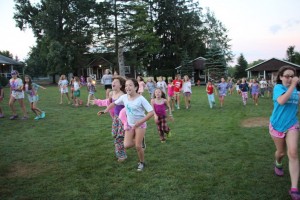 The boy camel entourage catches up to the girl camel entourage at THE WHITE ROCK, only to discover there is a huge pyramid situated on the Infirmary Lawn.
The music continues to blast; the horns shreek and the head Judgie, Bob Miller declares: THIS IS IT Towanda, OLYMPICS 2015!!!!"
And with that, a door opens on the Pyramid and four generals emerge with the team banners!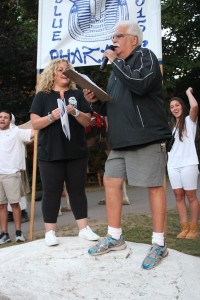 The Blue Pharaohs Vs The Red Snake Charmers!!!!
The generals are announced, the camper captains are announced, the lieutenants and the sergeants. They all come running towards the Pyramid which was flanked by the Camels!
The bewildered look and disbelief that there were camels on camp was great!
After much more excitement and team meetings, everyone went back to the bunks, to wash up and get ready for Olympic lineup and then breakfast!
Another team meeting, coaches prep and at 10:30 the activities start; I'll be on the GHOST COURT.
Feels like a complete day already and we are pumped to get more in.  The breakout was incredible and the games have begun!
The excitement of the end of camp hasn't even peaked; but wow, oh wow—it is feeling oh so great!