Last weekend we had our "Group Scoop" orientation, which welcomes new campers to the Camp Towanda family.  It is a great opportunity for parents to get comfortable and most importantly for campers to get psyched for their best summer yet!
One question that gets raised every year by new parents is "What do I do if I have a picky eater? I'm worried he or she won't eat." We totally get why this issue concerns you.  Food is what keeps our kids from running on empty.  It fuels their day and can dramatically affect energy levels and moods. As parents, we cater to our kids' eating quirks, become short-order chefs, manipulate meals and jump through hoops to keep our kids happy and their tanks FULL (we've all been there)!  But how can we do that at camp when we have one chef to feed over 700 people? Believe it or not, that's where the "magic of camp" comes in!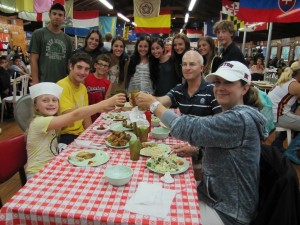 Michael Thompson said it best in his book, "Homesick and Happy":
"Family-style dining teaches patience, respect, cooperation, and skills. A communal table creates both personal flexibility and powerful-shared meanings, just as Thanksgiving and a Seder do.  The counselors, who may be twenty or twenty-one, play the traditional roles of parents; the children act as one another's siblings. The novelty of eating with others at camp expands a child's awareness of eating itself; learning about one another's food quirks throws your own fears into perspective. Does a child want to be the only kid in the cabin who doesn't eat a generally popular item? When children see other kids their age eating stuff they've never been willing to try at home, and they know there is no Plan B, they may be willing to try the very thing their mother has been unable to get them to eat for years."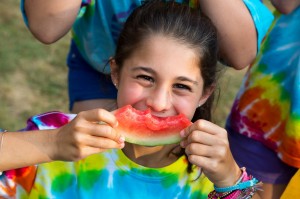 It's true! We've seen it happen first hand at Camp Towanda  Yes, the first few days and maybe even weeks, kids grapple with food choices.  Counselors are made aware of eating issues and "food schtick" to help them navigate the process.  Our Camp Mom Laura (also known as "Food Mom Laura") sits with a different group at every meal.  She encourages campers to try each of the choices prepared by the kitchen…our staff does too! They put each item on their plate and encourage campers to do the same.  There are no "yucks" and "eews" allowed.  Our camp moms also walk through the dining hall, checking on campers who may need help making good choices (which is also good to help manage over-eating).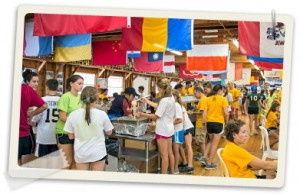 Our salad bar is a great place for 'picky eaters' to find something they can enjoy and they are pleasantly surprised to see there is so much more than salad at the salad bar!  Reliable back-ups like plain pasta, plain bread, yogurt, fruit, granola, tuna, hard boiled eggs and PB&J are always there! We even see campers getting creative, making egg salad, tuna salad sandwiches, and cheddar cheese pasta.
When parents aren't around to manage their kids' quirks, kids grow leaps and bounds, conquer new fears, try new things, get out of their comfort zones and thrive.  If your kid is a picky eater, this is why you send your kid to camp!
Still nervous? Here are "Food Mom" Laura's Tips for preparing your child for camp life:
Teach them how to butter a piece of bread, spread peanut butter or jelly, or butter their own pasta (a counselor will always be there to help, but this may give them confidence and feel in control that they can always have something 'safe' to eat)
Schedule a family-style meal 1x a week in your home with a food you know they like (and some foods that they don't—they don't need to eat them, but it's good to keep them on the table).
Parents can encourage children to taste foods on the parents' plate. Did you know kids need to try the same food at least 3x before they like it?  You can also place a small portion of a new food on their plate.  Encourage them to taste it.  Repeat this in a couple of weeks with the same dish.
For salad lovers out there- take them to a salad bar and have them make their own…they will love this part about camp!
Don't worry…there are always fruit and pretzels available throughout the day at camp (and did we mention canteen, milk & cookies?).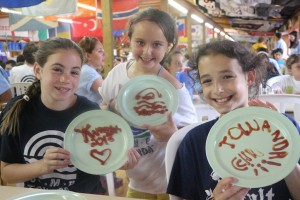 While we know how much you LOVE being a short-order chef, we think you will welcome your NEW and IMPROVED eater with open arms in August and be surprised to hear all the foods they tried and liked.  And if they say "nothing"…well, we'll never tell their secret about the time they ate sloppy joes at camp!
About Camp Towanda:
Camp Towanda is an independent, traditional, co-ed sleep-away camp in the Poconos in Pennsylvania. It is privately owned, operated and directed by Mitch and Stephanie Reiter (who are celebrating 25 years as owners and directors).  For over 90 years, Camp Towanda has continued to define what camp should really be. Our program offers state-of-the-art facilities, an excellent and professional athletic department, waterfront, extensive arts, drama and adventure programs, and special events.  We are highly regarded and respected as an industry leader and are involved in giving back to various organizations throughout the year.  Camp Towanda is accredited by the American Camp Association and a member of the Camp-Alert-Network, Wayne County Camp Association, Camp Owners and Directors Association and the Pennsylvania Camp Association.
To learn more about Camp Towanda, visit our website here.