D-A-Y T-H-R-E-E, that is how we spell DAY 3!!!
Good Afternoon Red Fans, good afternoon Blue Fans!! Yesterday was another great day of spirit, friendly competition, and fun during the 2012 Camp Towanda Olympics. The morning started off strong with another track meet, this time on boys side. It was amazing to see how fast those legs could run. By the time the meet ended and lunch started, the score was closer than ever! Morning activities on girls side were just as exciting and made us realize how amazing these teams are! Just as the one team pulls in the lead, the other one comes up from behind.
After a baked ziti lunch and a much earned rest hour, the sun settled in a cloudless sky–just in time for the girls swim meet and afternoon activities.  Wishy-washy washy-wishy, all the girls can swim like fishies!
Before the pinnacle evening activity, we took a pause from Olympics to have Friday Shabbat dinner as a camp family…the 2012 Dorm Girls lit the candles with the Dorm Girls of 2019 and 2020 (This years' Debs)!  A special moment in time!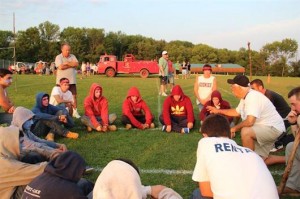 Rope Burning was last night and, as always, it brought all of camps' hearts together. An alumni Guest Judgie crowd of over 60 judged and spectated the fired up crowd! Win, loose, or draw, Rope Burning is one of the most outstanding evenings to be a part of. Whether you are cheering on the side, passing down the wood, building the fire, judging or spectating, you can feel it–the sense of achievement and pride in your camp family. Maybe it was the size of the fires this year, or maybe it was the true Olympic spirit the seems to be radiating from the outside world into ours, but it was such an outstanding display of sportsmanship, teamwork, and determination. We are proud of both of our teams and extend a very special congratulations to the Red Jesters on their victory last night.  Their fire was "no joke"!
Both teams celebrated as if they won the FINAL 4 with milk and cookies and then ETB while counselors chiseled away at the scenery and  team plaques for Sunday Night's sing.
Today is apache relay and tonite is the cumulative broadjump contest (which should be live on the Camp Cam!). We are doing our best getting you live coverage.  Hopefully our blog, Facebook and CampMinder pics are filling in the gaps for you all at home!
We had to share some perfectly put words from an Alumni/Parent/Guest Judgie just to give you a sense of what it feels like to witness this Camp Towanda Olympics firsthand:
On a day when the lead in Olympics changed hands more than once – a pretty amazing thing in and of itself given that there have already been thousands of Olympic points awarded – and the evening concluded with a spectacularly thrilling rope burning, it was especially clear to me how fortunate I am to be both a Towanda parent and also an alumni Judgie.   And today, more than ever, it was easy to see that one of the things which is most amazing about the way Olympics is conducted at Towanda is how naturally it teaches the kids the meaningful relationship between having a rich competitive spirit while at the same time maintaining the overriding importance of true sportsmanship.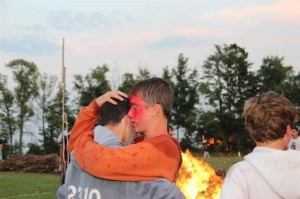 When looked at from a parent's perspective, it's easy to understand how instilling in the children this keen value of fairness will have a lifelong – and no doubt very positive – impact on so many of the relationships which they will form as they travel down life's road.  And what's particularly special is how the kids so naturally learn this life lesson; it really is beautiful to see.
Rope burning tonight was the perfect example of that.  To have the entire red team cheer on the blue team after red had burned down their ropes in near record time was positively wonderful.  This sportmanship, this spirit, this remarkable demonstration of the bonds which are created and fostered at Towanda, all combine to create a powerful testament to the value of what's being learned here at camp, and all while the kids are having the time of their lives.  Lucky for them, and lucky for us.