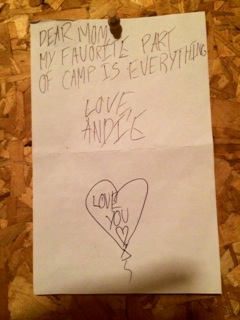 We're into the third week of camp (WOW!) and camper phone calls have started!!! Hopefully your calls are the recharge YOU need to make it thru the next 12 days until you see your camper IN PERSON! Many of you have told us that your campers were eager to get back into the action and on with their day after your calls (like you were interrupting something more fun going on!). Kids! Their letters may be vague, but happy, and we can understand that as a parent, you want to know MORE.
Like our campers, my net takeaway at the end of each day are feelings of pride, spirit and camaraderie and overall happiness.  For them it's sometimes hard to remember the exact activities they did during the day, the intercamps they played in, and the options they selected…because at the end of the day, they tried something new, felt great about themselves, made new friends and are ready for more. That's what they remember and that's what I remember.  Because that's the magic of camp, and what makes it SO different than every day life at home.  The focus shifts from what you did TO how you feel and your overall experience and growth.
Some of you have asked for more specific intel about your campers' daily lives from our counselors and Group Leaders. At Camp Towanda, we strongly believe in keeping our staff focused on being involved in camp and do not want to distract them with reporting to the parents back home.  We recognize other camps do this.  It's just not our philosophy or culture. This is not to hide anything from you. This is to keep our staff focused on your kids and running camp.  It is literally NON STOP action here from sunrise to sunset (and then after dark).  However, there are several things we think may help you feel more connected:
There are a list of activities on our website and a typical day schedule.  All our campers get involved in these activities and you can talk to your child and their counselors about them on phone calls and Visiting Day.  Like all the traditional sports, Outdoor Adventure, waterfront, Gaga, Ghost, Arts & Crafts and more! Zumba is a big hit too (with the girls and boys!)! We change our schedule daily and no two days are alike!! Seriously.
Subscribe to our iCal from the App. It tells you exactly what the evening activity was for the day and scheduled trips. I try to convey the essence of these activities in my emails, but you can get the gist from the pictures (which are always posted within a day or two of the event).
When you come up on Visiting Day, you can take a peek at THE BOARD in the center of camp, which has info on group schedules, tournaments and daily life.
Follow our Blog– a couple times a week, we update the blog by translating my nightly emails into 'English', helping give you a sense of the week or a special event like Olympics. General to camp, but sometimes more specific than my emails. Enough to help you talk to your camper about it.
The pictures…while your child may not always be in a photo,  they do communicate what is going on at camp, the activities, and the crazy fun we are having! #refresh
The Live Camp Cam! You can literally see what's going on at camp!  You can find out the weather and see the center of camp! Of course there's a very good chance you won't see your child, but you will see camp.
Use our exclusive CT checkbox stationery. These are questions that speak to the activities, food and fun you can only find here! Available in your Campminder Docs.
We understand it's hard to go from being SO involved in your child's day-to-day activities to feeling disconnected…BUT at the end of the day, we promise your kids are participating in a wide range of activities (literally all of them on our website), competitive/intercamp opportunities, evening activities and more! But most importantly, they are growing, maturing, and feeling great about themselves.
Kids are kids…and not always the best communicators! They are busy immersing themselves in life here at camp…which can sometimes leave them at a loss for words, and indescribable feelings…and that's why we call it MAGIC.