An interview with Stephanie Reiter by our Social Media Director, Lauren Forman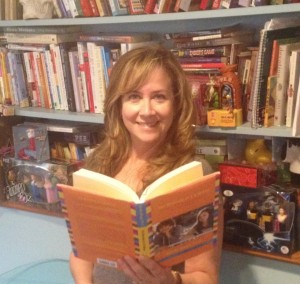 Over the years, our Camp Towanda families have enjoyed Stephanie's Recommended Reading List for parents.  It is available in the forms & documents section in CampMinder and includes a healthy list of books that Mitch and Stephanie have read and like to share with our camp families.  We have even heard from some parents that they chose our camp because of Stephanie's amazing reading list!
A couple of weeks ago, I had the pleasure of sitting down with Stephanie, surrounded by some of her favorite parenting books (and there are dozens, if not hundreds).  I enjoyed watching her eyes light up as she recalled how each of these books had a profound impact on her approach to parenting and being a Camp Director.
As a parent myself, I was eager to get a peek inside Stephanie's library as she shared with me her years of experience as a mom of two boys, and her insights and observations as a Camp Director for almost over 25 years.
We hope you can find some "Rest Hour Time" to read a few of these inspiring gems:
STEPHANIE'S TOP 10 BOOK LIST FOR PARENTS:
For parents of young girls: Reviving Ophelia by Mary Pipher: An accurate perspective on what girls are going through today.  The Girl Within by Emily Hancock: Identifies the period between 8-10 and the onset of adolescence.
For parents of boys: Raising Cain by Dan Kindlon: Insight into the psyches of boys and how adults can help them flourish.  The Wonder of Boys by Michael Gurian: Insight into what boys need to become strong, responsible men.
For parents with two or more kids: Siblings without Rivalry by Faber and Mazlish: In so many ways, at camp bunkmates are just like siblings in the Camp Family.  We apply many of these ideas to help our camp brothers and sisters get along.
For parents to read before sending their kids off to camp: Homesick and Happy by Michael Thompson and The Summer Camp Handbook by Chris Thurber.  Both of these books are great if you are feeling a little anxious (which is normal) about sending your child to camp for the first time.  These books help you remember what a gift you are giving your child.  How you should be proud of yourself that you made camp a priority for your family, and how time away from parents helps kids grow.
For campers to read before coming to camp (only if they want to!): Off to Camp by Myra Pravda.  This is a Camp Towanda favorite and helps kids prepare for the summer camp experience.
For a calmer approach to parenting: Blessings of a Skinned Knee and Blessings of a B Minus by Wendy Mogul.  Oh, how I loved these books! The first is for parents of younger children; the second is for those with teenagers. If you only read one book, make it one of these!  Based on Jewish teachings of the Torah, these books provide answers to raising self-reliant and compassionate children in a culture of competition and materialism.
For how to reap the benefits of camp, year-round: Free-Range Kids, How to Raise Safe, Self-Reliant Children (Without Going Nuts with Worry) by Lenore Skenazy  This book is a bit of a throw back to how people parented years ago… when we were less fearful and overprotective and gave our kids more freedom to be independent.  Camp is a wonderful outlet where kids can reap the benefits of being "free-range" while still in a very safe environment.  It's the way the world used to be…or should be!  It's an interesting perspective and a good read!
For parenting in today's world: How to Raise Self-Reliant Children in a Self-Indulgent World by H. Steven Glenn & Too Much of a Good Thing by Dan Kindlon.  Good for parents who are challenged by raising kids in a self-indulgent world.  Opens our eyes to the difference between being a good friend and a good parent.
For bully-proofing our children: Take the Bully by The Horns by Sam Horn.  Unfortunately, we now know as adults, there are always going to be bullies in life.  This book teaches and empowers your children how to be bully-proof.
For kids (and for us to remember what it's like to be a kid!): Have You Filled a Bucket Today?, by Carol McCloud, Oh the Places You'll Go!  by Dr. Seuss and Growing Up Is Hard by Dr. Laura Schlesinger.  All three of these have a wonderful perspective and great life lessons. I would encourage you share them with your children and read them yourselves.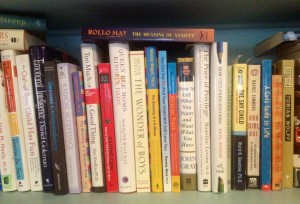 With Stephanie's bookshelves filled with so much more than just parenting books, we had to ask her some more questions about the other books in her collection.
 4 Quick Questions for Stephanie
What book changed your life? The Mind Body Prescription by Dr. Sarno.  For so many years I experienced very bad back pain.  This book was recommended to me by a Senior Staffer at Towanda and literally changed my life.  It helped me realize the powerful connection between the mind and the body.  Thanks to this book I can now say I am PAIN-FREE and have such a deeper understanding of myself (without undergoing any medical intervention).  Crazy, but true!
What books do you want to read next? The Great Gatsby (before the movie comes out) and a book about the artist Cezanne.
Have you ever considered writing a book?  After reading The Mind Body Prescription, I would love to write something about how TMS (Tension Myositis Syndrome) presents itself in children.  I see so many children experiencing physical pain related to their emotional stress.  I would love to give children these tools to live free of pain…and just be happy, healthy kids!
With all of your creative endeavors, what are you currently working on? My website! I am so thrilled to be a part of a new online gallery called Gallery Sprout where you can see all of my work and read about what inspired me to create each painting.  I cannot wait to get to camp this spring and paint a little before we kick it into high gear! You can visit my new gallery here.
Visit our
Pinterest Page
, where you can find links to all of these books and more camp inspiration!