Week one was off to a very wet but wildly fun start at Camp Towanda. We made the best of the weather, creatively using all of our indoor facilities to the max and the campers and staff didn't miss a beat. Our Towanda ponchos and rain boots have gotten their fair share of wear and mud GHOST is a new activity here at camp!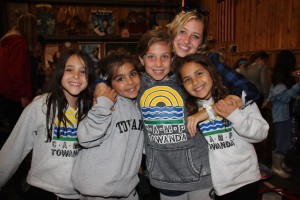 Even though it has only been a week, the camaraderie, smiles and friendships are as if we have been together a long time already. We have been appreciating the rare glimpses of sunshine, soaking in the fun of kickball, volleyball, basketball, free swim and more! And when the showers rain down on us, we have been seeking cover at indoor basketball, ping-pong tourneys, lego room, old-school board games, treehouse challenges, gaga, indoor arena soccer, Arts & Crafts, dance, Culinary with Chefs Ben, Hannah and Judi, gymnastics, martial arts, play rehearsal, zumba and more. And while the fields dry out we have managed to play lacrosse on the tennis courts because, why not!? We have enough to keep us busy. Rain doesn't get us down one bit- we are "water resilient"!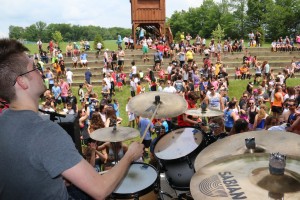 Our evenings have been filled with Towanda favorites like talent shows, open mic night, Towanda Open (dizzy bats, pudding pie in the face, messy fun!) and Unique Entertainment Game Show to name a few and capped off with Under the Lights for our Upper Camp and milk & cookies for Lower Camp. We celebrated the July 4th long weekend with our annual traditions of breakfast on the lawn, Campapalooza outdoor concert, record-breaking attempt to get into the Guinness Book of World Records (this year the entire camp with stuck together with Chinese finger traps), a day of sunshine filled co-ed activities, luau, BBQ and fireworks set to 1812 Overture! The first week really did end with a bang!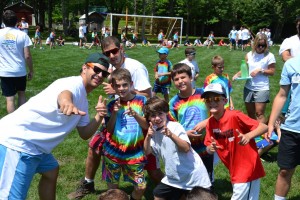 Stephanie and I and the senior staff (Head Counselors, Camp Moms, etc.) spend the bulk of our day out there…in the trenches, managing, observing, directing, participating…at eye level…getting into it. Knowing your kids and their counselors so we can successfully guide and direct them towards a successful experience here at camp.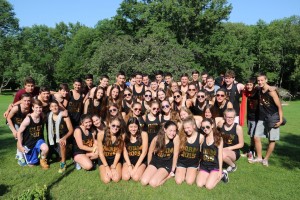 We are not in the office, we do not carry cell phones or technology with us…we are in the moment with the campers and staff. We break the cliques, we balance the group, we foster a brotherhood and sisterhood…the road to achieve that isn't easy, but we have the tools here to be successful…things happen here that just can't happen anywhere else! Just take a look at our oldest campers- The Dorm & Club!
By now you have probably received the first wave of letters…that's what we call "old news"!   You may need to read it, take a deep breath and then go out to dinner! We are on it!
Let the excitement, activities, skill development and games continue! Thanks for trusting us to do what we do and thanks for making the tough parenting decision to let us do it!
Check out the first official highlights video of the summer! Friday Nite Flix Week 1: Wet Hot American Summer Edition: FRIDAY NITE FLIX
Quote of the week: "Wow!  Cannot believe how much rain you guys have had but glad to see that it cleared up .  Watching the FNF this week it seems that the rain has not managed to dampen the spirit of camp. That's amazing.  The kids all look like they are having a fabulous time.  Very impressive given the weather conditions." – Camp Parent