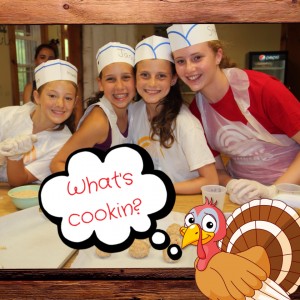 As we plan ahead for our 2015 Culinary Menu at Camp Towanda, we want to make sure you are prepared for Thanksgiving at home! Your guests are sure to gobble up these side dishes created by our very own Chef Ben.
Enjoy and don't forget to share your pix on Facebook, Instagram and Twitter and tag @CampTowanda #ImACTChef.
TURKEY NUGGETS:
Ingredients:
Leftover Turkey – Sliced apox ¾ inch thick
1 Tbs. Milk
2 Tbs. Honey
Salt, Pepper & Cayenne pepper to taste
Panko Bread Crumbs
Directions:
Using a small, round (or any fun shape) cookie cutter, cut out little medallions of turkey.
Mix milk and honey in a small bowl.
Put breadcrumbs in another bowl and mix in salt, pepper and cayenne to taste.
Dip medallions in honey mixture, then crumbs, set on baking pan.
Broil on low for a few minutes, each side, until slightly golden.
Serve with honey or honey mustard sauce.
CARROT MACARONI AND CHEESE:
 Ingredients:
3/4 pound carrots, peeled and thinly sliced
Zest and juice of 1 navel orange, zest removed in strips with a vegetable peeler
Salt
3 cups penne (9 ounces)
3 ounces sharp cheddar cheese, shredded (1 1/2 cups)
1 tablespoon chopped tarragon
Freshly ground white pepper
Directions:
Preheat the oven to 350°. In a medium saucepan, combine the carrots with the zest and juice and 1/4 cup of water. Season with salt and bring to a boil. Cover and simmer over moderate heat until the carrots are very soft, about 30 minutes. Discard the zest. Transfer the carrots and any liquid to a blender and puree until very smooth.
Meanwhile, in a large saucepan of boiling salted water, cook the pasta until al dente. Drain the pasta, reserving 1 cup of the cooking water.
Return the pasta to the pot. Add the reserved water and the carrot puree and cook over moderate heat, stirring frequently, until the pasta is coated with a thickened sauce, about 5 minutes. Stir in three-fourths of the cheese and cook, stirring, until very creamy, 2 to 3 minutes longer. Stir in the tarragon and season with salt and white pepper.
Transfer the pasta to a medium baking dish and top with the remaining cheese. Bake until the cheese is melted and lightly browned, about 20 minutes. Let stand for 5 minutes before serving.
THREE CHEESE MINI MACS:
Ingredients:
1/2 pound elbow macaroni
1 1/2 tablespoons unsalted butter, plus more for brushing
1/4 cup freshly grated Parmigiano-Reggiano cheese
2 tablespoons all-purpose flour
3/4 cup milk
4 ounces cheddar cheese, shredded (1 packed cup)
4 ounces deli-sliced American cheese, chopped
1 large egg yolk
1/4 teaspoon smoked Spanish paprika
Directions:
Preheat the oven to 425°. In a large saucepan of boiling salted water, cook the macaroni until al dente, about 5 minutes. Drain, shaking off the excess water.
Brush four 12-cup, nonstick mini muffin tins with butter. Sprinkle with 2 tablespoons of the Parmigiano; tap out the excess.
In a large saucepan, melt the 1 1/2 tablespoons of butter. Whisk in the flour over moderate heat for 2 minutes. Whisk in the milk and cook, whisking, until boiling, about 5 minutes. Add the cheddar and American cheeses and whisk until melted. Off the heat, whisk in the egg yolk and paprika. Fold in the macaroni.
Spoon slightly rounded tablespoons of the macaroni into the prepared muffin cups, packing them gently. Sprinkle the remaining 2 tablespoons of Parmigiano on top.
Bake the mini macs in the upper and middle thirds of the oven for about 10 minutes, until golden and sizzling. Let cool for 5 minutes. Using a small spoon, carefully loosen the mini macs, transfer to a platter and serve.
SWEET ROASTED BEETS:
Ingredients:
6 medium beets, peeled and cut into chunks
2 1/2 tablespoons olive oil, divided
1 teaspoon garlic powder
1 teaspoon kosher salt
1 teaspoon ground black pepper
1 teaspoon sugar
3 medium sweet potatoes, cut into chunks
1 large sweet onion, chopped
Directions:
Preheat oven to 400 degrees F (200 degrees C).
In a bowl, toss the beets with ½ tablespoon olive oil to coat. Spread in a single layer on a baking sheet.
Mix the remaining 2 tablespoons olive oil, garlic powder, salt, pepper, and sugar in a large resealable plastic bag. Place the sweet potatoes and onion in the bag. Seal bag, and shake to coat vegetables with the oil mixture.
Bake beets 15 minutes in the preheated oven. Mix sweet potato mixture with the beets on the baking sheet. Continue baking 45 minutes, stirring after 20 minutes, until all vegetables are tender.
ROASTED BRUSSELS SPROUTS:
Ingredients:
1 1/2 pounds Brussels sprouts, ends trimmed and yellow leaves removed
3 tablespoons olive oil
1 teaspoon kosher salt
1/2 teaspoon freshly ground black pepper
Directions:
Preheat oven to 400 degrees F (205 degrees C).
Place trimmed Brussels sprouts, olive oil, kosher salt, and pepper in a large resealable plastic bag. Seal tightly, and shake to coat. Pour onto a baking sheet, and place on center oven rack.
Roast in the preheated oven for 30 to 45 minutes, shaking pan every 5 to 7 minutes for even browning. Reduce heat when necessary to prevent burning. Brussels sprouts should be darkest brown, almost black, when done. Adjust seasoning with kosher salt, if necessary. Serve immediately.
About Camp Towanda:
Camp Towanda is an independent, traditional, co-ed sleep-away camp in the Poconos in Pennsylvania. It is privately owned, operated and directed by Mitch and Stephanie Reiter.  For over 90 years, Camp Towanda has continued to define what camp should really be. Our program offers state-of-the-art facilities, an excellent and professional athletic department, waterfront, extensive arts, drama and adventure programs, culinary cooking classes, and special events.  We are highly regarded and respected as an industry leader and are involved in giving back to various organizations throughout the year.  Camp Towanda is accredited by the American Camp Association and a member of the Camp-Alert-Network, Wayne County Camp Association, Camp Owners and Directors Association and the Pennsylvania Camp Association.