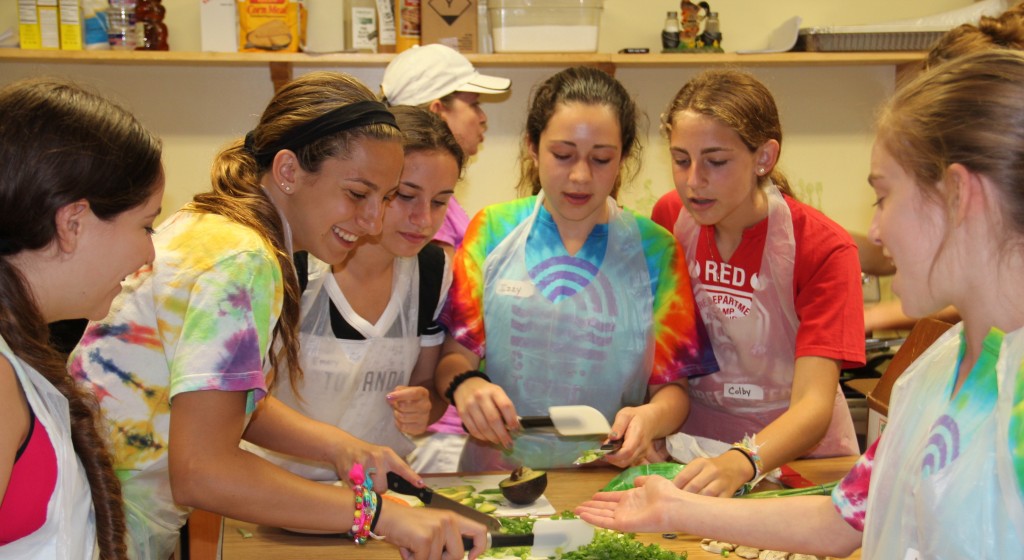 Camp Towanda is very excited to partner with "Kids Cook Mondays", using some of our Camp Towanda Culinary Favorites to encourage family time in the kitchen! We experience at camp firsthand, that when kids are involved in making and preparing their food, they are more likely to try new things, broaden their horizons and eat more healthfully.  We look forward to another summer at the Camp Towanda Farm Kitchen, where our campers will improve their cooking skills, learn kitchen ettiquette and safety and create new and exciting foods and ethnic dishes.
Here is one of our favorite meals from last summer–The Mexican Fiesta! Please send us photos of your family's own fiesta making these dishes…and think fondly of camp!
Camp Towanda Mexican Fiesta!
Refined Bean and Cheese Enchiladas
1 bag dried pinto beans
1 1/2 cups of sautéed onion carmelized
1 teaspoons salt
1 teaspoon pepper
1 package of corn tortillas
2 cans of enchilada sauce
3 cups of cheddar cheese
Soak beans…preferable over night…then boil till cooked strain …reserve 1/2 cup of the liquid from the boiling
Sauté onions till browned…in a food processor add beans,onions , salt and pepper …pulse slowly add liquid slowly to incorporate all items
In fry pan add enchilada sauce heat till warm …take corn tortillas and lay in heated enchilada sauce one at a time to loosen the tortilla to roll
Add about 2 tablespoons of refrained bean mixture and about 2 teaspoon of cheese in center of the tortilla and roll
Place in a Pyrex pan…continue till filled pan…add remain enchilada sauce to top of rolled enchilada and cover with cheese…
Bake in over at 350 for 20 mins
Homemade salsa
2 ripe tomatoes cut in quarters
1/2 of a medium cucumber cut in quarters
1 green pepper cut up
1/2 of a piece of jalapeño
1/2  red onion..cut in quarters
2 tablespoons of white vinegar
1 teaspoon of cumin
Salt and pepper to taste
Add all ingredients to food processor and and pulse to chopped…pour in to bowl and enjoy
You can add fresh corn or beans to this recipe…and make bean or corn salsa
Guacamole
3 ripe avocados
1/2 cup small diced tomato
1/2 cup of small diced red onion
Juice of a half of lemon
Mix all items together mushing the avocado but leaving some chunks of avocado.
About Kids Cook Monday
The Kids Cook Monday is a project of The Monday Campaigns, a non-profit public health initiative encouraging people to use Mondays to integrate healthy behaviors into their weekly routines. When kids pitch in to make meals, they're empowered to learn more about what they eat and make healthier choices. And since the family that cooks together eats together, the initiative encourages regular family dinners to benefit kids and help parents stay connected to their children's lives. The Kids Cook Monday offers a wide variety of free family dinner recipes and educational resources. Visit TheKidsCookMonday.org for more information.