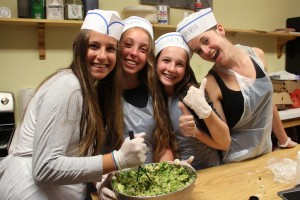 This summer at Camp Towanda, Chef Ben and his Culinary Cooking classes threw a Fiesta at The Farm! Now you can make it a CT Culinary Mexican Night with your "home family" and think fondly of your camp family!
*All recipes are "group-size" and serve 12-15 people.
HOMEMADE GUACAMOLE:
Ingredients:
11 avocados ­ peeled, pitted, and mashed
3­ 3/4 lime, juiced
1 tablespoon and 3/4 teaspoon salt
1­ 3/4 cups diced onion
2/3 cup chopped fresh cilantro
7­1/2 roma (plum) tomatoes, diced
1 tablespoon minced garlic
3­ 3/4 pinches ground cayenne pepper (optional)
Directions:
In a medium bowl, mash together the avocados, lime juice, and salt. Mix in onion, cilantro, tomatoes, and garlic. Stir in cayenne pepper. Refrigerate 1 hour for best flavor, or serve immediately.
MEXICAN CORN SALAD: 
Ingredients:
12 ears of corn, husked
9 tablespoons mayonnaise
6 tablespoons fresh lime juice
1/4 teaspoon paprika or cayenne pepper (optional)
6 ounce Cotija cheese (or parmesan) plus more for serving
2 tablespoons chopped fresh cilantro plus more for serving
Kosher salt
Freshly ground pepper
Directions:
Prepare grill for medium heat. Grill corn, turning occasionally, until tender an slightly. Cut kernels from cobs and transfer to a medium bowl.
Whisk mayonnaise, lime juice, paprika, cayenne, if using, 2 oz. Cotija cheese, and 2 tablespoons cilantro in a large bowl; season with salt and pepper. Add corn and toss to combine. Top with more cheese and cilantro.
Mix Corn & Dressing
QUESADILLAS:
Ingredients:
8'' soft tortilla shells
16oz shredded cheese (cheddar, mozz, Monterey Jack, etc.)
Vegetable oil
Fillers of your choice: Cooked Chicken, onions, mushrooms, peppers, tomatoes, etc.
Directions:
Fill your tortilla shell with cheese + fillers you choose and fold in half
Heat flat top / skillet / sauté pan with oil
Place tortilla on flat top / skillet / sauté pan and let sit for 2-3 min then flip
Remove, let cool for 1.5 minutes and cut into 1/3's
CHICKEN SOFT TACOS:
Ingredients:
2­1/4 pounds skinless, boneless chicken breast meat ­ cubed
3 tablespoons red wine vinegar
3/4 lime, juiced
1­1/2 teaspoons white sugar
3/4 teaspoon salt
3/4 teaspoon ground black pepper
3 green onions, chopped
3 cloves garlic, minced
1­1/2 teaspoons dried oregano
15 (8 inch) flour tortillas
1­1/2 tomato, diced
1/4 cup shredded lettuce
1/4 cup shredded Monterey Jack cheese
1/4 cup salsa
Directions:
Sauté chicken in a medium saucepan over medium high heat for about 20 minutes.
Add vinegar, limejuice, sugar, salt, pepper, green onion, garlic and oregano.
Simmer for an extra 10 minutes.
Heat an iron skillet over medium heat. Place a tortilla in the pan, warm, and turn over to heat the other side.
Repeat with remaining tortillas.
Serve lime chicken mixture in warm tortillas topped with tomato, lettuce, cheese and salsa.
GLAZED CHURROS:
Directions:
Dip end of churro into melted chocolate
Roll into desired topping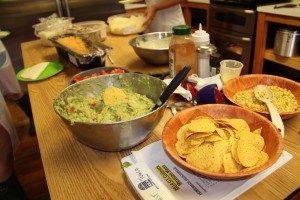 About Camp Towanda:
Camp Towanda is an independent, traditional, co-ed sleep-away camp in the Poconos in Pennsylvania. It is privately owned, operated and directed by Mitch and Stephanie Reiter.  For over 90 years, Camp Towanda has continued to define what camp should really be. Our program offers state-of-the-art facilities, an excellent and professional athletic department, waterfront, extensive arts, drama and adventure programs, culinary cooking classes, and special events.  We are highly regarded and respected as an industry leader and are involved in giving back to various organizations throughout the year.  Camp Towanda is accredited by the American Camp Association and a member of the Camp-Alert-Network, Wayne County Camp Association, Camp Owners and Directors Association and the Pennsylvania Camp Association.