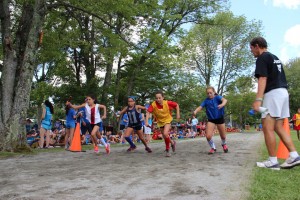 And we're off!!
Olympics 2013 is off to an incredible start.  Intense spirit, effort and pride everywhere.  From the creative athletic apparel (did you know you can play soccer in a tutu?) to the chants and cheers, Olympics is very much HERE!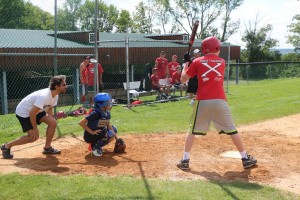 For those of you who may have tuned into the Camp Cam for your daily weather check, we had a nice weather day (with a few spots of rain).  All sports were played.  In the morning we had Girls' Track Meet.  From the marathon to the potato shuffle to the 4 1/2 relay, those girls ran their hearts out (with the Generals, CCs, Lieutenants and Sergeants running along side them for EVERY RACE).  While they ran the track, the boys competed in basketball, soccer, team handball, softball, football and GHOST. The Grand Master reported some games were down 2-0 in best of 5 to come back to win!!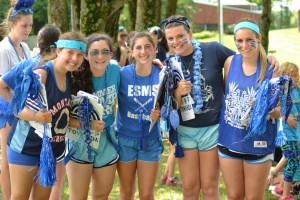 During rest hour, tennis, soccer, co-ed CIT Ghost were played, while the Senior/Club/LIT boys collected wood for tonight's rope burning (the Club boys have been practicing with their coaches–it should be an incredible event tonight…you'll have to check it out on the Skyview Camp Cam!).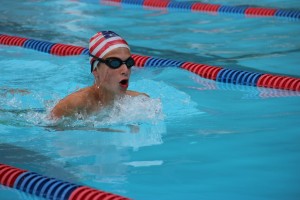 In the afternoon, the boys headed to the waterfront for their swim meet.  The water was a little cool, but that just made the boys swim faster.  Kick-board and kayak races, freestyle relays and the All-Star Race.  Everyone competed, tried their very best and congratulated their friends in the next lane.  The Girls rocked the fields in kickball, basketball, newcombe, Ghost (of course), soccer, gaga and softball.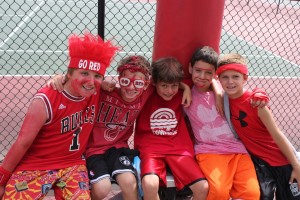 As our last Friday evening at camp, we continued the tradition where the Dorm and Deb girls light the candles and welcome us to our Shabbat dinner.  To see our 8 year old Debs with our 15 year old Dorm girls…it just reminds us how far these girls and all our campers have come.  We had an abridged service, the Red Zombies and Blue Clones did some entertaining skits and everyone got ready to PULL THAT ROPE!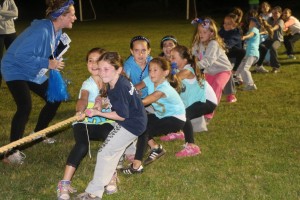 Tug of War was under an incredible sky on Skyview, under the lights.  Everyone gave it their all, cheered with pride and celebrated with some milk and cookies!
After Tug of War last night, the National boys basketball game went into OT!!!  Fast-paced, evenly matched, well-fought.  The coaches were really proud of their boys!!!  A great end to Day 2!
Excitement, tradition and warmth are everywhere here at Camp Towanda with over 50 Guest Alumni Judgies swarming and feeling nostalgic!  It's amazing that no matter how long it's been since they were a camper or counselor, just being here makes them feeling like it was just yesterday!!! Having them here helps make Olympics that much better!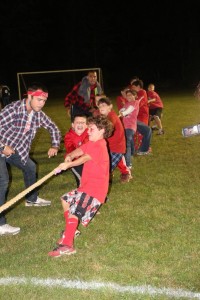 At the end of the 2nd day, the BLUE CLONES are ahead of the RED ZOMBIES by just 13 points and consider that 2200 points have been awarded this far.
TONIGHT is the great ROPE BURNING event, considered to be the best night of camp!  Stay tuned….
Events are underway today…Boys Track Meet, Girls Swim Meet and lots of activities on the fields and courts.
Good luck Red Team. Good luck Blue Team.