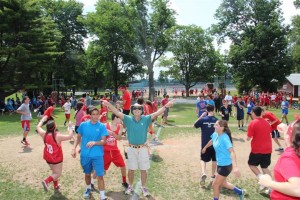 Attention RED fans, Attention BLUE fans,
Okay Olympics Day 1 is done. Judgies and Generals are still meeting as I write and the sing scenery and plaque crews are still working late.
The WOW factor of breakout was the talk of the morning; everyone just realizing how cool (or should I say "cold") it was…how incredible, how exciting, how suprising and how much a part of it they were.
And then the day really got started…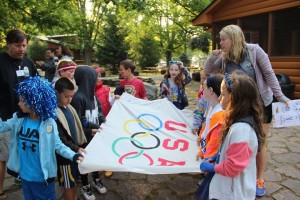 As we left breakfast, the maintenance crew was on the main basketball court, shoveling, blowing and sweeping the 3 inches of snow (looked even more incredible in the morning light) onto our mini golfcart dump trucks and then dumping it all into one big pile.  It took several hours to clean, then power wash and scrub the court clean for the first game of the afternoon.  The snow pile actually now sits at the far side of the court, off in the grass.  We are not certain how long it will last!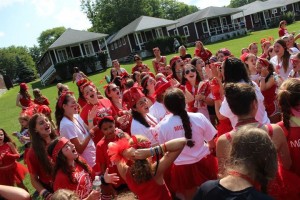 Once the adrenaline of Breakout filters through every bone in one's body, it helps transform that excitement into a spirited commitment; virtually taking all the ingredients and experiences of the summer to produce the ultimate in sportsmanship, friendship and positive energy.  This is what I saw today…an incredible air of passionate happiness and joy……exactly what we all have been striving for since everyone arrived way back in June. Camp Towanda, at it's finest!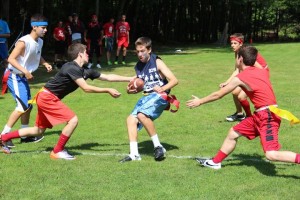 Unfortunately I am unable to capture all of the activities and events of the day as I was at GHOST reffing some incredible matches. The thing about GHOST is it really defines what Towanda is all about. Simply; it is fun to play, it doesn't matter what your level of skill or ability is; as everyone is important to the game (even spectators) and you are never out…..  there is a lot more to it (123 rules in fact)—but it is the most INTENSE and loved sport at camp.
Speaking of intense, we had an enjoyable traditional silent Olympic dinner (the entire mess hall silent), which concludes with entertaining cheers.
Then evening event was tug of war; which was also very exciting; follwed by some late night soccer and basketball games.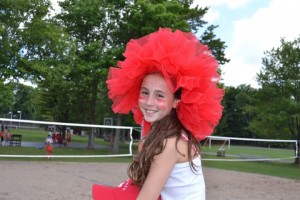 So, at the end of day 1; with still 50 points still to be tabulated, the score is an incredibly close RED LIFEGUARDS 309 and the BLUE SKI PATROL, 300!!!  How about that!
Day 2 is on the horizon. More reporting from the field…
Good luck Red Team.  Good luck Blue Team.