From start to finish, yesterday we hit it out of the ballpark! It was a "classic" Camp Towanda day from the Water Carnival to our "All-Star Baseball"-themed evening. Let me break it down for you: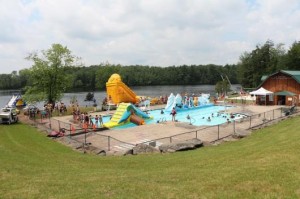 WHO
We started with a lazy morning outdoor buffet breakfast……The nationals are on their multi-day excursion; the CITs had a day off and the rest of us had a B-L-A-S-T at the water carnival;   wet=wild=warm…on rides, slides, floats, boats, popcorn, cotton candy, watermelon, ice pops, hoses, golf balls, rapids and floating stuff!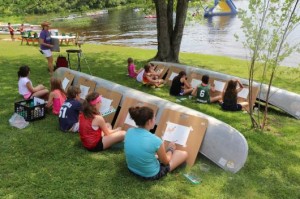 WHAT
Good music (of course) and heat…….hours of splashing and dancing! Stephanie even had a Fine Arts Class lakeside in the afternoon.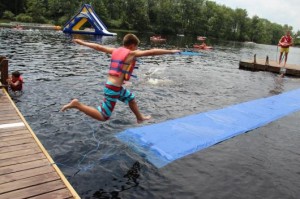 I DON'T KNOW
Ending with our smorgasbord dinner; then Girls played PANIC (some sort of fun girl game) and the boys had Home Run derby…then, because we thought all star game was tonight (in past years it has always been on this corresponding date), we went with watching baseball bloopers and Abbot & Costello's WHO's ON FIRST (THAT never gets old) under the stars on the big screen (did you catch us on the live cam?)….while Bob The Boys HC, along with Howie our Program director, grilled dogs, served popcorn and hawked root beer (just like at the ballpark)…..another great camp tradition.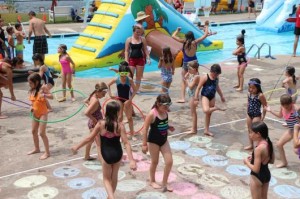 BECAUSE
The Fun continues; we have Circus Workshops during the day today, Electionality  at night (one campaign slogan for camp president says" Vote for us, we would give you a chocolate chip cookie, but we don't have any"! You gotta love that!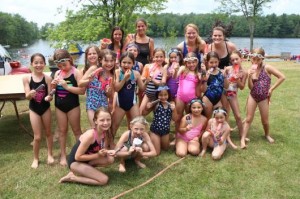 TODAY
I was speaking with the CITs (our 17 year olds)  They were just hanging out, talking with me and Stephanie; joking, laughing and just enjoying each other's company; at the end of the conversation, they said they "…love camp (most of them here already for 7-10 years so far) because one reason is that if they were ANYWHERE else, they would be texting; it is just more real here".
I need not say anymore!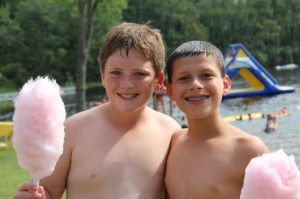 TOMORROW
This place is magical on so many levels; I know I say it often but the growth, the confidence, the experience we see develop and improve EVERYDAY is phenomenal. I realize that some of you get different messages from the letter or phone call, but HERE, IN THE MOMENT, each camper is thriving, at their own pace and what is good for them, without being compared to anyone else.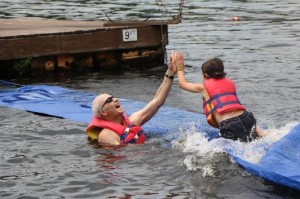 I DON'T GIVE A DARN
It just keeps on getting better…….the Camp Towanda family!
~Mitch
P.S. Just in case you haven't ever seen Abbot & Costello's Who's on First…it's a must.