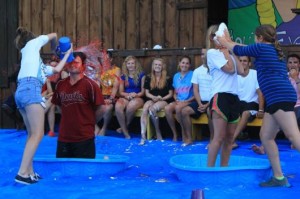 As Visiting Day approaches, and we begin to reflect on the first half of the summer….I have to take a moment and thank our incredible staff!  This weekend was filled with activities that really reflect their contribution to our camp and why they help make it so special.  On Saturday, we had many new families at camp for our S'more Tour Rookie Day. Several families were alumni; in fact, they were our campers back when Stephanie and I first started…what a treat to have them show up as future camp parents!  The feedback we recived was that they were impressed with our staff (from LITs to CITs to General Counselors, Specialists and Department Heads); they saw counselors involved, spirited, attentive and really caring about the kids!
I often say that I think parents choose Camp Towanda because they trust Stephanie and I to be THEIR parenting partners; to positively impact, influence their kids as well as set the tone for everyone and everything here at camp. BUT, I think one of the many reasons  the kids want to come back for years and years, is because of their counselors.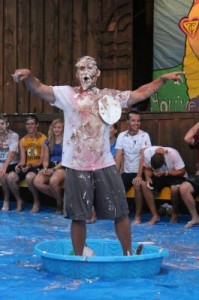 We are very proud of our staff; they get it, they care and while they are definitely learning a lot about themselves (after all being a camp counselor is like taking a Parenting 101 course), they are impacting and caring for your children.
Saturday night's evening activity was "ultimate camp in action". The event was TRUTH OR CONSEQUENCES which pitted the campers against the staff; the kids lobbed whipped cream pies and buckets and pitchers of BUG JUICE on their counselors. If I told the staff when I interviewed them that on a Saturday night you would voluntarily stand in a kiddie pool while an 7 year old through a pie in your face in front of 750 people, all cheering, dancing, screaming and laughing…I don't think they would get it…… BUT that is what happened and as youngest and oldest laughed together; the synergy and electricity of our camp relationships boomed into the night.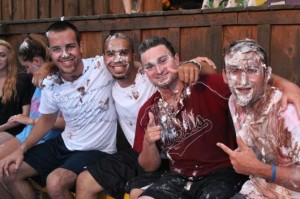 Afterwards we had a pumped up staff meeting as they are eagerly awaiting the upcoming week with your kids.  As the Owners and Directors of camp, we are excited, pleased and proud of how this summer's camp family is learning from each other, growing together and coming together.
After the staff meeting, we had a comedian from NYC come up and do an hour of college stand-up humor to give our staff a light break….. funny guy, good night and thanks to our Senior Staff who covered the bunks into the wee hours!  Because when the staff are happy campers…our campers are happy campers.
I gotta tell you, we really do pinch ourselves everyday……this place is amazing!