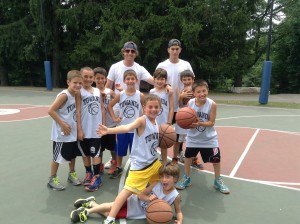 Good evening everyone, my name is Kyle Maynes (that's me on left with the sunglasses). Most of you may know me as Waterfront Kyle. You know back in 2011 I remember sitting in the back of the field house listening to Michael Pelton give his sermon at the first Friday Night Service of the summer. I was taken aback by what he had to say, I was nearly brought to tears. I knew one week into my first summer that this is where I wanted to spend all of my summers. The campers, counselors, senior staff, daytime activities and evening activities all contributed to what makes this camp so special. I only hope I have had and will have the same impact on all of you.
For the last three summer I've been fortunate enough to work pre camp. People always ask me why I do it or what do I do for a month before all the campers show up? The only appropriate response I could think of is something my fellow Group Leader JayFray said to me, "I love seeing camp be built". It's so amazing seeing an empty campus come to life and blossom into our summer home.
I know being a first year staff member here at Camp Towanda isn't always the easiest to adjust to. Whether it be general counselors, specialists, group leaders or senior staff. Most of you come from different countries or states and don't have camps quite like this to work at and call your summer home. In 2011, I took a chance on a place that was 3000 miles out of my comfort zone and didn't know what to expect. I was lucky enough to have Mike Thompson and Matt Miller who had 30 years of combined Towanda experience to take me under their wing and show me the ropes. Every possible chance I try to do the same and make the adjustment for new staff members the same that I had. One thing I can say is that regardless of what your job title is, we all wear many hats here at camp. Your days are always full and you're always expected to go above and beyond the expectations, just like in life.
This summer I've transitioned into a new role at camp. Going from Waterfront Director to leading that amazing group of Cadets around has been a great experience. During pre camp this summer I sat down with another fellow Group Leader, Marbles, and discussed the counselors he had as a camper. We talked about which counselors made the biggest impact on his growth as a man and which counselors he would remember for the rest of his life. My boys who are up near the front, Calling all Cadets… ("Lets get airborne!") yup those are mine. I just hope I can have the same impact on these kids. I hope that when they reflect back on these summers 10 to 15 years down the road they will remember the significance I played in their lives. My goal is to grow and learn from them as much as they will from me.
My first summer I had the opportunity to be accepted by the senior boys of 1110. Although I was senior staff they made me feel like one of their own and allowed me to sit in on there reflections that summer. I was able to see those young boys grow into young men beneath my eyes. Now seeing them as waiters half way through high school and ready to embark on this world in a few years is great. Seeing the club boys of 2011 tackle the roll of now being Counselors-in-training has also been amazing. If I showed up yesterday I wouldn't be able to tell they weren't counselors. I would say that the maturity these boys have shown has been brought out by camp. Every summer you're learning new things, having new experiences, meeting new people and they all contribute to who you are as a person.
I know throughout this sermon I've referenced many people or used things that other people said as my own. Mitch always tells the staff that, "No matter where you are in the world you will always have a little piece of Towanda with you". These people I've referenced and the things they've said are a part of me now. Not a day goes by that I don't think about camp. This is more than a summer job, it is an experience you will remember the rest if your lives. When I look around this room all I see is my family. No matter where life takes you I will hold you all dear to my heart. I sincerely thank Mitch, Stephanie, and all of you for letting me be a part of it. Thank you.