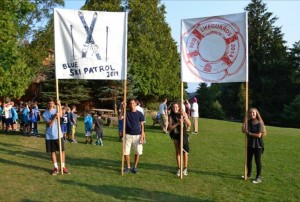 A great day of activities on Day 2 of Olympics. Debs playing newcomb in Tutus (from yesterday's basketball in Tutus), lots of team spirit, incredibly intense matches on the Football field, soccer field and ghost court. Games going into overtime. Everyone giving it their all. Showing incredible spirit and teamwork. Our Girls Track meet was in the morning and Boys Swim meet in the afternoon. Relay races showing the best of Towanda. Teamwork, supporting each other and win or lose, having each other's backs.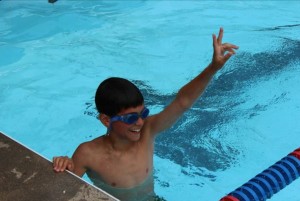 One Jet was overheard in the "pit" awaiting his race say "This is a really big deal. It's my first swim meet". For so many of these campers, this week is a lot of firsts. Being a part of something big and important, that carries over 90 years of Towanda traditions. Running their first ever track meet with half of camp cheering them on. Feeling they can't swim freestyle for one seemingly long lap, to knowing they can. It's awesome to see these young kids jump right in and know what they do today makes a difference and having so so so much fun!
More Alumni Judgies are rolling in upon the shores of our camp. Sharing Olympic history with our campers and creating their own new Olympic memories here this summer as they watch Red Lifeguards and Blue Ski Patrol in action. Seeing how many generations we have here represented is just awesome. And the kids love having them here to share in these traditions that have gone on for decades.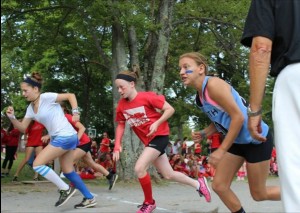 Last night we had our traditional Shabbos dinner, our last one this summer, with the Dorm and Debs doing candlelighting and ushering us in. It is always so amazing to see these two groups at the end of the summer. The Dorm 2014 has served as role models for Girls Camp and now we see the Dorm 2021, 2022 and even 2023 see their future and what they will become. It's something to aspire to, look forward to, and dream of for the next 7+ years.
Dinner was silent, until Red and Blue did some fun cheers to get their teams pumped for LONG JUMP! We divided the teams at 3 locations last night for efficient long jumping. The kids swung their arms, flew in the air, landed (hopefully without falling- or at least falling forward), and worked as a team to go the farthest!
After milk and cookies and bed, some groups still had late night games to be played. Inter Girls under the lights soccer and National Boys basketball on main field to name a couple.
Wood collection continued for tonite's Rope Burning and we prepare for another day of events.
As we enter Day 3 of the 5 days of Olympics, the score is: RED LIFEGUARDS: 1203  and BLUE SKI PATROL: 1321…still, very close and exciting!