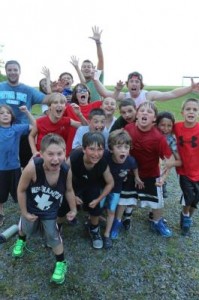 What an amazing first week at Camp Towanda!  It was action-packed and full of new beginnings and memories for our first-time campers.  You can really feel the energy here at camp by watching our first episode of Friday Nite Flix https://vimeo.com/69361442.  For those of you who don't know, Friday Nite Flix is a camper AND parent favorite here at Camp Towanda!  At the end of each week, our Media Team presents a very spirited recap of the week that was. Our camp watches this together on the big-screen each Friday.  Our fans at home get their viewing on Saturday (after it uploads to our Vimeo channel ALL NIGHT).  It's a great way to really feel the energy and excitement we get to experience every day.
We also wanted to share some insight, experience and wisdom from some of our "seasoned" parents to first-time parents with kids at Camp Towanda.  Here are some great letters we received and a video: https://vimeo.com/68894398.
Letter#1:
Dear first year parent,
Our daughter's first year at camp was in 2006, when she started as a Deb. The first two weeks of camp it never stopped raining. It rained so much there was a picture of Mitch in a kayak on the soccer field! Mitch also had to email the parents asking us to send up "dry" sneakers!   (That will NOT happen this year!!!!!-Mitch)ALL the letters we received the first 2 WEEKS from our daughter said she "misses us so much she cannot stop crying".  When we heard from the camp after her first week, they said she was "appropriately" homesick.  Throughout that first summer there were always letters saying "camp is fun, but I miss you so much I am crying".
We believed in the camp, and felt if she could just get past missing us, this camp was the right place for her and she would love it.
As the summers went on, the letters became as short as "too busy to write, camp is GREAT, ttyl" !
Our daughter is now in the Dorm and her 8th summer. To say she "lives 10 months for 2" is an understatment.
Camp Towanda is a very special place. You chose well.
Try really hard to relax and enjoy your summer rather than sitting at the computer waiting for new pictures (as I did her first year), your kids are in great hands!!
Letter#2:
Dear Mitch,
While reading your morning email today (which I look forward to every morning during the summer) I felt the need to respond to you regarding the first 3 letters.
This is my children's second year at camp and I want to share my experience when it was their first year and even this year.
Every morning I look forward to seeing the pictures posted from the night before. I look through all the pictures, save the ones of my kids to the favorites and go back and analyze their faces.All week long i wait for the first letters to arrive,This summer this is the progression of her letters :
1st letter: I am going to give camp a chance, all my friends are here, regular schedule tomorrow GTG bye.
2nd letter: I miss you so much I wish I was home, but most of the time I don't.
3rd letter: camp is great,!( then a laundry list of colored loom bands needed & where is her camera).
I can go back to the letters from the previous summer and it is much if the same.
Towanda is an amazing place that my kids look forward to all year, but it takes a few days to get adjusted.
I remember when they got off the plane after camp last year and hugged us so much after saying how much they missed us, the exact words out of their mouths before we walked two feet in the airport is " can I go back next year,"
Homesickness is part of the adjustment, I,know my kids are having an amazing time and they are in unbelievable hands.
Whether you are a first timer or seasoned parent you don't sleep well with your kids away, but to paraphrase the constant message my kids wrote last summer, "thank you for sending me here" and " I am having the time of my life".
Stay dry and see you on visiting day!
Letter #3:
More than 40 years ago I spent my first summer at Camp Towanda, and to this day I can remember being homesick my first week at camp.  I also clearly remember being watched over with great care by my counselors, by the head counselor, and even by the then directors of the camp, just as I know that new campers are still watched over today.   And I know without hesitation that what was true back then remains true now:  it is crucial to allow time for the new camper to find their own way, to choose their own path of independence, and to come to terms with what may surprise them:  that they can not only go it on their own in an entirely new environment, but that they can (and will!) come to thrive in that environment.
Having two children in camp now, I know that the first few days (and even weeks, and perhaps even the first summer) can be a time of challenging emotions for the new parent.  But the lesson we've learned in our family is to have confidence in our children, in our choice to send our children to Towanda for all the reasons we made that choice, and in the recognition that generations of children at Towanda have dealt with and beautifully conquered the pangs of homesickness which are being experienced by many new campers during this first week of camp.
And one other suggestion:  please resist, resist, resist the temptation to gauge what is happening with your child at camp by what you see in the daily photos.  As I've come to learn, and also seen first hand during my visits to camp over the last many years, the photos capture at most a split second of time in what is an always fulfilling and activity filled day at camp, and they simply can't consistently provide the basis for judging what is really going on with your child at camp.  In fact, I have often suggested to Mitch that he experiment with a summer of "old school" at Camp Towanda, where there are no photos broadcast to the parents.  I have always sensed that this would be a relief for the kids – some of whom love to run to the camera and some of whom have zero desire to run to the camera – and a bigger relief to the parents, many of whom plainly spend too much time glued to the computer refreshing their screen as they wait for new photos to be posted.  Yes, I acknowledge that the photos can be fun.  But please consider accepting from someone who has lived, and still lives, with this issue: the photos are not worth the anxiety they can sometimes create.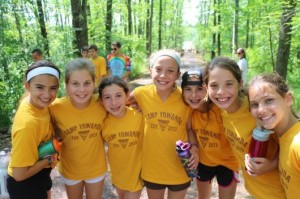 We hope this helps; please also remember WHY you chose Towanda; WE are parents, too. We empathize with what you are feeling, BUT WE ARE HERE, really taking care of YOUR CHILD. THIS IS an incredible privilege and OPPORTUNITY; when you look back, years from now; you will be proud that you provided this foundation, confidence, nurturing, safe BUILDING experience.
We speak confidently because of the results EVERY YEAR; we look at the BIG picture and we deliver…with love, pride and passion.
And just for some added humor, we thought we'd share this animated perspective on what parents do when they miss their kids and just really wish they were up at camp too! Enjoy (and refresh, refresh, refresh): https://vimeo.com/69413200 .