Sound the air horn. THIS IS IT! Olympics 2014 has officially begun! But let's rewind to hear how it all went down.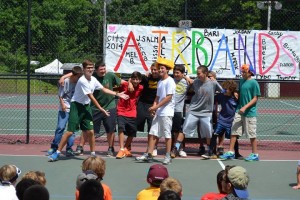 Yesterday we had another attempt at an all-camp canteen after lunch; this time it actually happened; which was followed by an unprecedented AIRBANDS in the middle of the day ON the main basketball court (just like the old days). Airbands is our very creative choreographed lip sync contest. Many presentations that were fantastic but The National boys won with their FAMILY GUY MEDLEY.  The day continued but one just didn't know which direction to look.. an air horn blasting there… my shirt changing colors at a faster rate (like every 5 minutes for a few hours)  then we said it was early showers (but why?). The boys lined up at flagpole 15 minutes early (lying down on the grassy knoll by the time the girls arrived)…..then a very short free play, what was happening????
Kids were guessing, oh it's a rock and roll team or it is going to be something retro or nostalgic or it is lasers against strobes and on and on and on.
But it was just another night of evening activity…an exciting, super-charged, high-energy 1st ever night of MARS VS VENUS (or better explained as boys camp vs girls camp) challenge night of balloon tosses, pie throwing, sponge toss, and so on…mixed in with a couple of dance parties.  We had the amphitheater rockin once again! The "friendsy' was again at an energized height…so much so, that I think no one was thinking about Olympics anymore for those moments.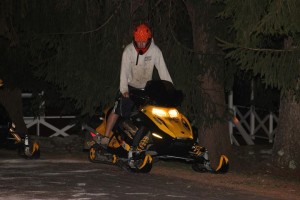 BUT THEN, in the middle of the energy of MARS VS VENUS a snowmobile appeared seemingly out of nowehere and raced across the lawn between the amphitheter steps and the stage…. Air horns blared, Pink Floyd's "Is anybody out there" echoed not only in the amphitheter but throughout the camp PA system…..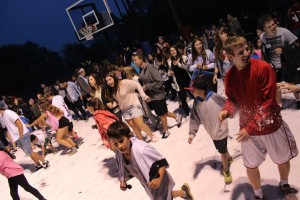 The crowd chased after the snowmobile which led the entire camp racing toward the main basketball court… While racing, you could see smoke billowing in the air which seemed like it was coming from the area of the main basketball court…as you got closer, "is anybody out there" was now blasting as loud as you can imagine from the mansion roof…but wait……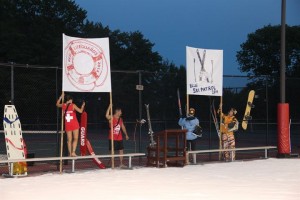 THERE WAS A SNOWSTORM HAPPENING ON THE MAIN BASKETBALL COURT and surrounding area….REALLY…over 3 inches of snow blanketed this huge area….. and then about a dozen more snowmobiles came racing down the hill from boys camp and pulled up to the outskirts of the basketball court….flanked by 15 lifeguards!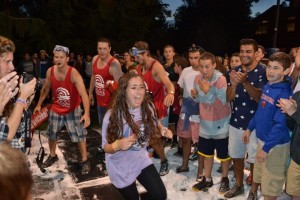 Our attention then focused on the center court …snow everywhere…… the banners unfurled…we were witnessing the RED LIFE GUARDS VS THE BLUE SKI PATROL!
People were on snowmobiles, carrying skiis, boots and poles….lifeguards were carrying flippers, goggles and life-saving buoys…..   it seemeed as if the snow was real, the snow guns blanketing camp…
And then,THE HEAD JUDGE (Bobby), perched on his stand, blasted the air horn and declared the start of OLYMPICS 2014!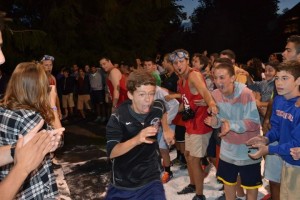 The crowd was crazy……  the lifeguards started shoveling a path on the slippery court….black non skid mats were placed for the soon to be announced Generals, Camper Captains (cc's), Lieutenants and Sergeants to come running down…slipping and sliding together to lead their teams….
After the teams were split, they had a meeting  and then we all gathered on the grassy knoll to light the Olympic rings in flame…..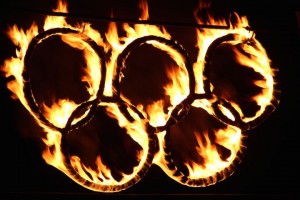 My friends, Olympics has started, it was crazy, it was intense, it was a SNOWSTORM…..
Kids of every age came up to me and were high fiving me or tossing snow and saying 'That was  THE BEST ever"…it certainly ranks up there as A W E S O M E, surreal and oh my WOW!!!
It was fun to plan, fun to put together and fun to watch happen….everyone is pumped!!! Let the games begin (if you need me I will be on the Ghost court for the next 5 days reffing 87 games, and lovin every bit of it)!!!